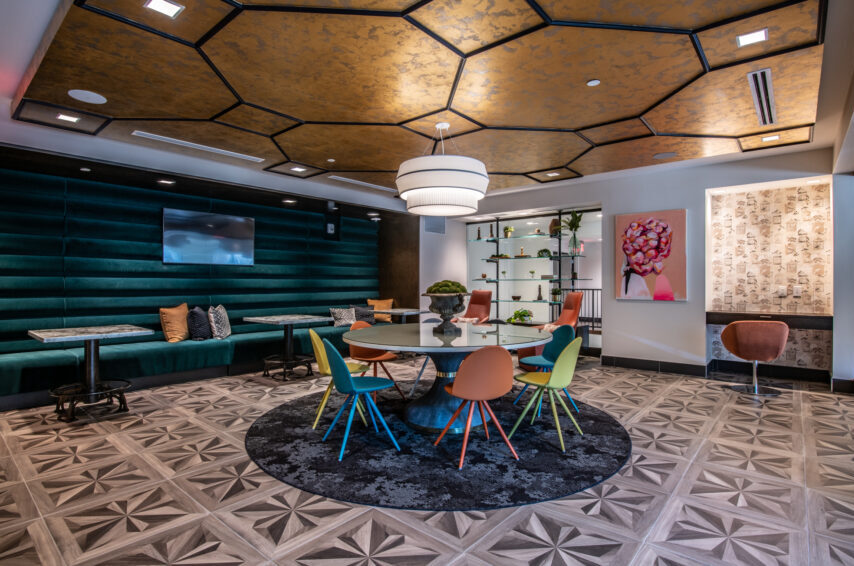 Feature Photo: Avec on H Street, Club Room Design by SR/A
In 2012 when I first moved to Washington, DC, I resided in the Hill East section of Capitol Hill. I was proud to move into my first apartment without roommates and opted for an apartment built in the 1920s with lots of character while accepting that might mean washing my dishes by hand. The H St. corridor was an area close by that I enjoyed exploring because I was drawn to its gritty authenticity that was cool without trying too hard. I liked seeing buildings that have been standing since the neighborhood was established as one of DC's earliest commercial districts and neighbors who are not all just transplants trying out DC for a season in their lives. Little did I know at the time that the corridor had previously fallen into decline after its buildings had been severely damaged after the 1968 riots following the assassination of Martin Luther King. Only in the mid-2000s did the street awaken with a new art and nightlife scene. However, like a diamond in the rough, the neighborhood had just been waiting to be rediscovered and reimagined by a city that was experiencing vast citywide redevelopment. The street was coming into its own identity but also still fine-tuning its distinguishing qualities within the city.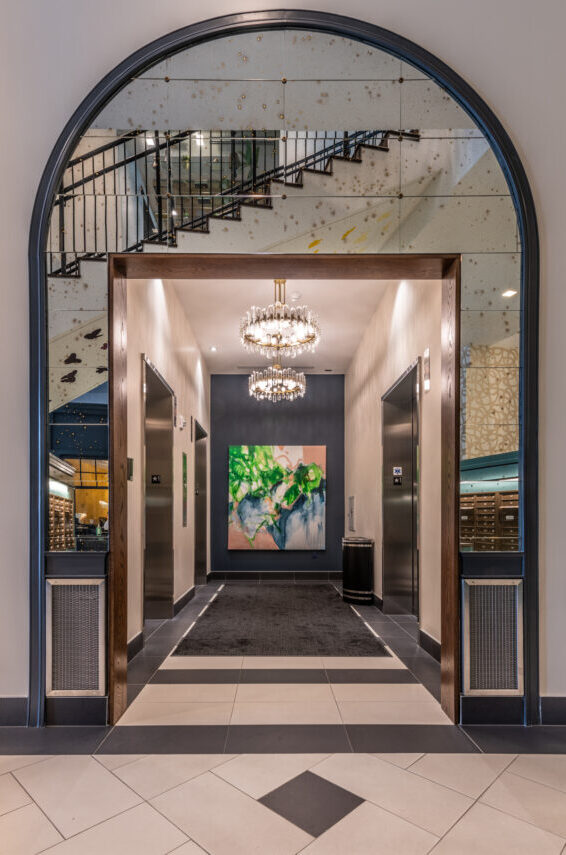 Avec on H Street:
Elevator Lobby, Design by SR/A
In the time following my move to DC, H St was coming into its own, but there appeared to be mostly original buildings on the street rather than a large presence of new developments. Developers seemed to be easing their way onto the street with only a couple of new multi-family buildings visible (at least in their completed states). In fact, around the time I started with SR/A back in 2012, I helped procure and install the final elements for the 360 H St. building the firm had begun working on in 2010. It was one of the first new multi-family buildings on the block, so to speak, and offered prospective residents the convenience of both a Giant grocery store within the building and quick access to Union Station. I distinctly remember a non-descript strip mall with a 7-11 and a Mcdonald's down the street. Who knew that only a few years later, this would be the site of a large development that would not only transform the 8th and 9th blocks of H St. NE but that I would also get the opportunity to play a role in the design of this new apartment development.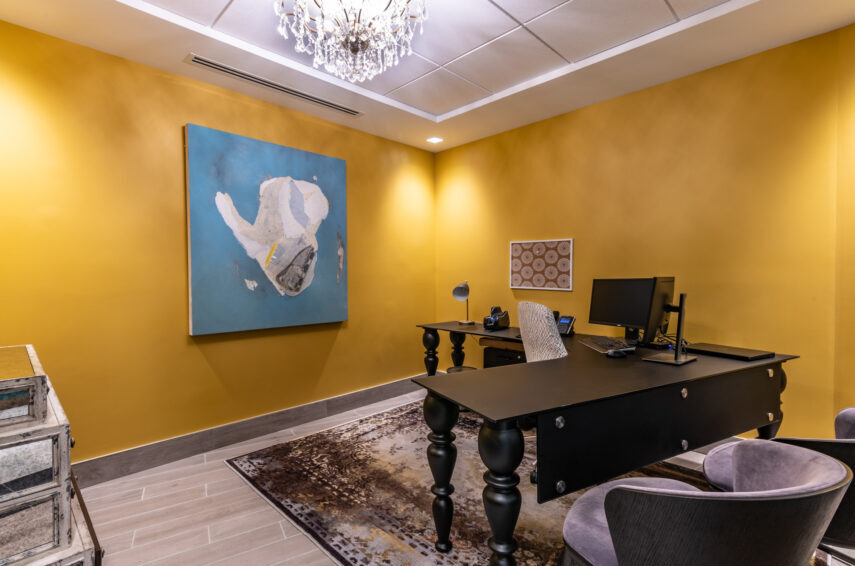 Avec on H Street:
Leasing Office, Design by SR/A
We began meeting with the developer, WC Smith, for this project in 2015. Early on, we started researching ideas surrounding future amenity trends and, over time, collectively developed a design for the building marked by sleek modern elements with a hospitality flare. In the meantime, H St. was taking off more than ever with other new developments finally emerging. There was now a distinct narrative that more clearly defined precisely what kind of renter was taking up residence in the corridor. The particular H St. renter was often a millennial, drawn to eclectic design, looking for community, and might work a government job but lives like a creative. This person is focused on the details and wants to be part of an overall living experience that is about more than just having an address. It turns out this renter sounded a lot like me, only less willing to wash their dishes by hand and hoping for a few more modern conveniences.
Avec on H Street:
Clubroom, Design by SR/A
In late 2018, the WC Smith building was already under construction, and we were approaching the furniture selection phase of the project. Judging by the project calendar, we were almost in the design's final phases and anticipating a smooth coast to the finish line. Around that time, we received a phone call from our project contacts at WC Smith that indicated that they were considering a few design changes after their marketing team had been analyzing the more modern interior that was planned against the new developments that they saw cropping up around the building site that had a different vibe. After all, this was a two-block development, and it would be essential to make the right design impact so that prospective renters would flock to the building to fill up its numerous units. In further conversations, we learned that the team was now envisioning a building that had a sense of old-world European charm juxtapositioned with modern Instagramable moments within the building.
It was becoming more apparent that although the building's space planning would remain the same, we were still being tasked with redesigning a building that was already under construction. As designers, we confidently reassured that "No problem, we can redesign the building" but secretly had a few sleepless nights worrying about the list of what could go wrong with executing a new design while the building was simultaneously already being constructed. In the normal course of a project, there are months to develop a design and months to produce the documentation for that design – all well before the building even breaks ground. We would now need to fast track this process to successfully meet the client's aesthetic goals while not compromising their deadline for the building to open.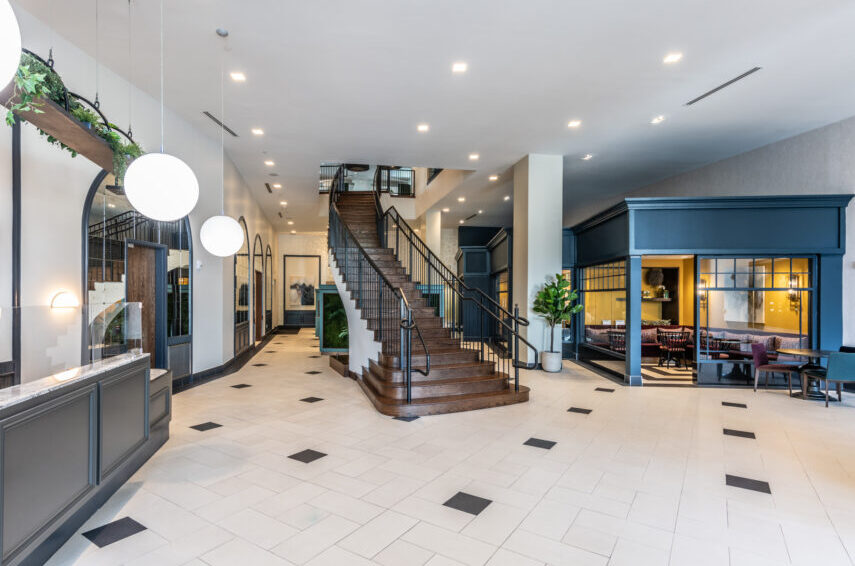 Avec on H Street:
Lobby, Design by SR/A
After we took more than a few deep breaths, we finally settled into the redesign process at hand. In record speed, our team took the client's design direction and began presenting our new concept for the space. We worked in their desire for old-world charm through details in the lobby like a traditionally influenced black and white flooring, arched antiqued mirrors cascading the wall leading into the elevator foyer, rich color palette, timeless trim work, plant adorned concierge desk, quaint shop-style leasing offices, warm wood tones, and a reimagined grand staircase. WC Smith employed an art consultant to fill the space with modern artworks, and they also featured a green wall on the first bank of mailboxes that shows off neon lettering. Other modern touches were infused through a graffiti style wallpaper along the back wall, video installation, and furniture that walks the line between traditional and modern.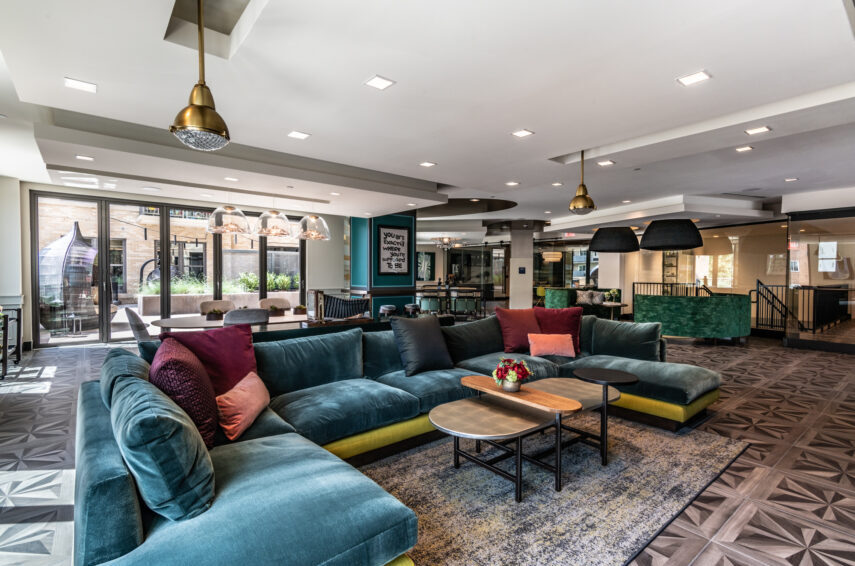 Avec on H Street:
Clubroom, Design by SR/A
The clubroom is a warm mix of old-world comfort with fresh materials and modern twists. Major design elements include a vintage-inspired wood-look parquet floor, semi-circular inlay at the classically styled bar, gaming corner, fun fabric mixing on the comfortable TV sectional, a fireplace filled with books, and a library perfect for working from home.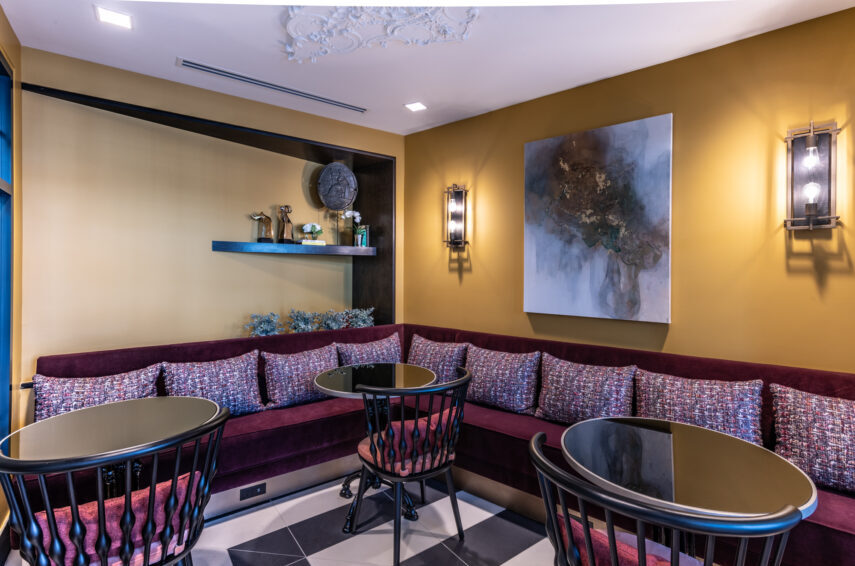 Avec on H Street:
Greeting Room, Design by SR/A
The rest of the building amenities and outdoor spaces fell into line with the new design approach. Amazingly, the residential corridors were one of the few areas that did not face a significant redesign since the original custom carpet that was developed actually worked perfectly with the new design style. Although SR/A was faced with a design challenge on a magnitude we had never experienced before, I am proud of how adaptable the team was to take on this new demand. We had to act quickly and decisively to design with our gut and to efficiently develop new design documentation, all while carefully coordinating elements with the architecture and construction team. Without a doubt, the SR/A team put their blood, sweat, and tears into this project, and we are proud of the results and the burgeoning community that is taking shape within the building now named Avec on H Street. WC Smith took a bold stance by redirecting the course of this project, but it was one that prioritized designing the right building for the neighborhood, which yields greater goodwill in the community and proves to be the right long-term investment.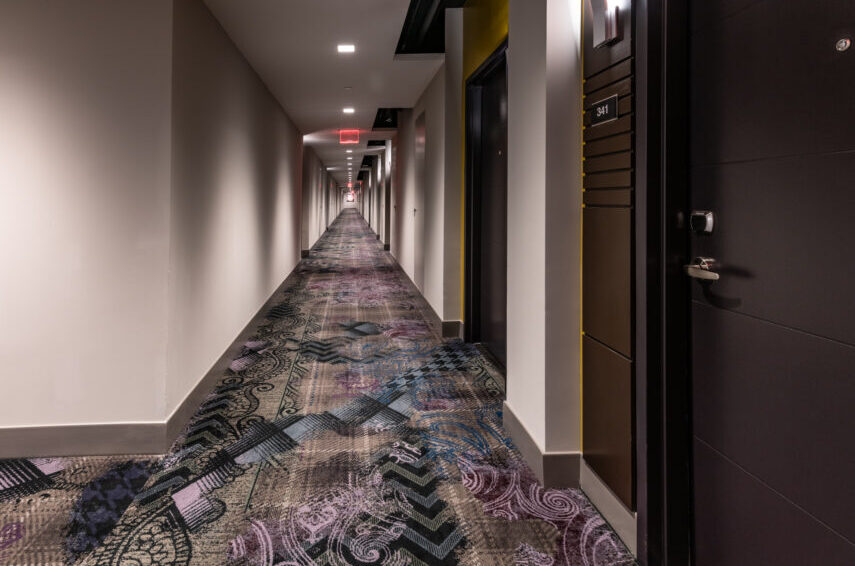 Avec on H Street:
Residential Corridors, Design by SR/A
As for my connection to the cozy corridor, which is a sub-neighborhood of my beloved Capitol Hill, I have since moved to the Friendship Heights neighborhood to be closer to work. Although with the onset of the 2020 pandemic, work is now closer than it has ever been with my office right in my living room. I still look back fondly to my time in Capitol Hill and miss my regular bike rides to H St. Even so, I know that it is a gem in the city that will continue to thrive and one that is always just a longer visit away.
About the Author:
Jessica Watts is the Creative Operations Director at SR/A.