Today the term "sustainable" is heard often.  More Americans than ever believe in global warming and that human activity is the main contributor.  Even more importantly, most people believe that by changing current industrial practices and the consumption of non-renewable resources, the future health of the planet might be saved.  However, to truly make an impact, large sweeping changes will have to be made not just by individuals but also by governments and different sectors of the economy including the building and design industries.
In very visible ways, design ideas are focused on a "green" future.  For example, the car industry, has embraced electrical vehicles as a way forward; with even the largest manufacturers such as Ford and Chevrolet, making their most popular models in electric versions.  A step that will undoubtedly help to change the future by helping to lower CO2 admissions and changing the dependency on petroleum base products.  Likewise, the construction industry which is a major source of pollution; particularly harmful for air and water quality as well as a leading contributor to landfills, has made strides to encourage better more sustainable practices.
The construction industry, which includes a wide range of specialties including Interior Design, is also looking at ways to go green by using more sustainable products and practices in both the exteriors and interiors of buildings.  The term "sustainable design" is not just limited to the physical construction of a building but also to how the existence of the structure will impact the environment around it and the individuals who live or work within the structure. Over the years, SR/A has worked on many projects in the area that have sought to be sustainable in their building and design approach as well as worked on projects that sought LEED certification.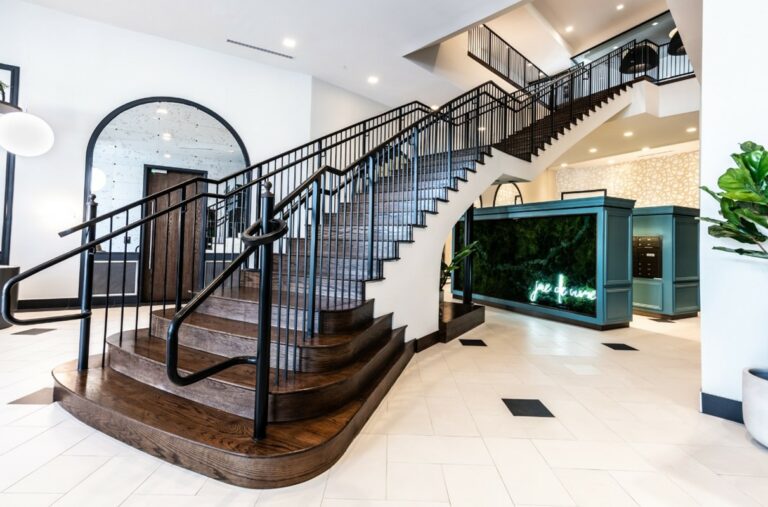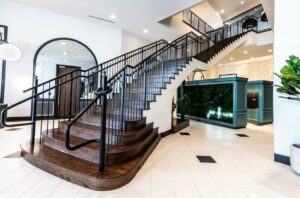 Avec on H – Lobby Interior and Amenity spaces designed by SR/A. The project achieved LEED Silver Accreditation.
Leadership in Energy and Environmental Design (LEED) is a worldwide certification program which sets sustainability standards for design, construction, and operation.  Though just about everyone in the building industry is familiar with LEED, they may not be familiar with the LEED for Cities program, which was launched in 2016.
The goal of the program is to help city governments develop detailed plans to measure their sustainability efforts, with areas of focus on water, waste, energy, transportation, and human experience.  Only one year after the program was launched, Washington DC, became the world's first LEED Platinum city.  The certification was awarded based on the outcome of efforts by city leadership to not only ensure sustainable and resilient building practices but to also make life more sustainable for the city's residents.
Building in a LEED City means that more focus must be given to not just the building itself but to the community at large.  The areas of focus for LEED Cities are:
Natural Systems and Ecology – how does the city handle light pollution? What are the efforts to conserve and restore natural resources? How are Green Spaces incorporated into the design?
Transportation and Land Use – is the city walkable/bikeable? Is there access to quality public transportation? Are alternative fuel vehicles available?
Water Efficiency – how is storm and wastewater managed? What is the availability of clean, accessible water?
Energy and Greenhouse Gas Emissions – what renewable energy resources are being used? How is energy being managed? Is energy accessible, reliable, and resilient?
Materials and Resources – how are all forms of waste, especially construction and demolition, managed? What is the recycling infrastructure?
Quality of Life – is there affordable housing? What is the level of public health, including emergency management and response services? Is the area a center for economic growth?
Three important and impactful ways Washington DC responded to the criteria above include:
Energy and Greenhouse Gas Emissions – All government buildings in the DC area are 100% powered by renewable energy and by 2032 at least half of the city's electricity generated by renewable sources.
Transportation and Land Use – Washington DC is 65% walkable. New developments now select sites based on walkability, access to bike trails/lanes and adjacency to public transportation hubs.  DC was also one of the first cities to adopt shared bike and scooter programs, which allows more residents easy mobility without the use of combustion engines.
Waste Management – DC set goals to achieve zero waste by 2034 and plans to divert 80% of garbage from landfills and incinerators and to reuse 20% of all trash produced. The Sustainable DC plan sets goals for individuals, neighborhoods, and the city at large.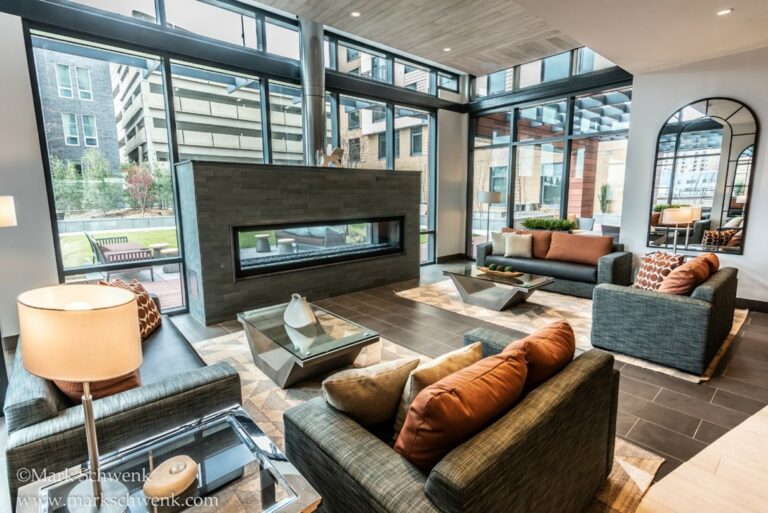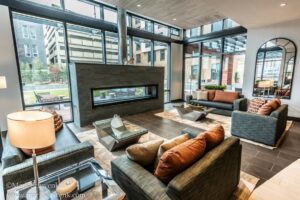 Solaire 8250 – Clubroom by SR/A. The project targeted LEED Silver Accreditation.
Since the foundation of LEED, interior design firms, including SR/A have been at the forefront of the green movement working with architects, manufacturers, and developers to create beautiful, functional, and sustainable spaces.  LEED process for interior design focuses mostly on the selection of materials and lighting.  Ten years ago, selecting sustainable products was a challenge for every designer.  The offerings were limited and not exactly eye catching or durable enough for commercial application.  But as more manufacturers have embraced "green" design the availability of materials and finishes that can contribute toward LEED accreditation points have vastly increased.  An aspect of design that dramatically affects the accreditation is lighting.
Today LEDs are everywhere, there isn't a business, residential building, or private home in the US without these low energy consuming sources of light.  However, not that long ago the lighting industry was still heavily dominated by incandescent and fluorescent fixtures.  But with the development of economically accessible and reliable LEDs interior designers have an unlimited selection of beautiful, functional, and sustainable lighting fixtures. Lighting selections that are beautiful, sustainable, and appropriate for multi-family amenity spaces is a way that SR/A has engaged in supporting developers and building owners who are looking for LEED accreditation. Another way that interior designers can contribute to LEED is to create a healthy interior environment which includes everything from air quality to considering how the materials are finished and applied in a space.  While the material and lighting selections are important to the LEED process, the interior designer's focus is also on the inhabitants of the space.
Although not officially counted toward LEED certification the importance of creating a healthy environment for occupants is a primary goal for any interior space.  To keep buildings healthy and those within the walls healthy and happy, it is important to select products that support these efforts.  The installation of low VOC (Volatile Organic Compound) products such as paint and flooring selections is a main way to support the health of an interior space and the health of the building's occupants.
In the past, everything from wallcoverings and carpets to paints and stains emitted varying levels of VOC through off gassing which can have harmful effects, mostly resulting in irritation to the eyes, nose, and throat.  In the 1970s, the heavy use of materials which contained VOC and poor air circulation in buildings lead to the scientific community coining the term "sick building syndrome."  To aid in the fight against these dangerous effects, SR/A will bring the outdoors inside by using moveable walls or large operable windows in our designs.  These features help to improve air circulation while also providing access to natural light sources within the building.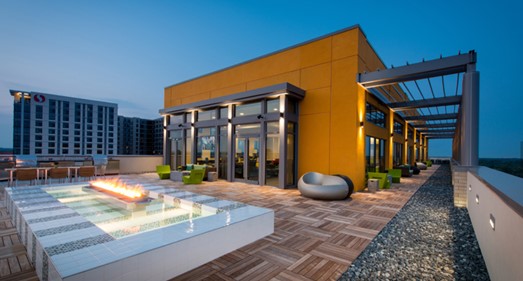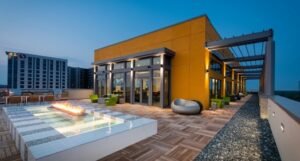 The George – Exterior Roof Amenity Space designed by SR/A. 
Another method of improving the indoor air quality of a space is using plants incorporated into the interior design. SR/A also will bring nature indoors using "green/living walls" where a design feature in an amenity area may include live plants or moss which can not only enhance a building's design concept but also leverage the use of plants to filter and improve the overall indoor air quality of the building.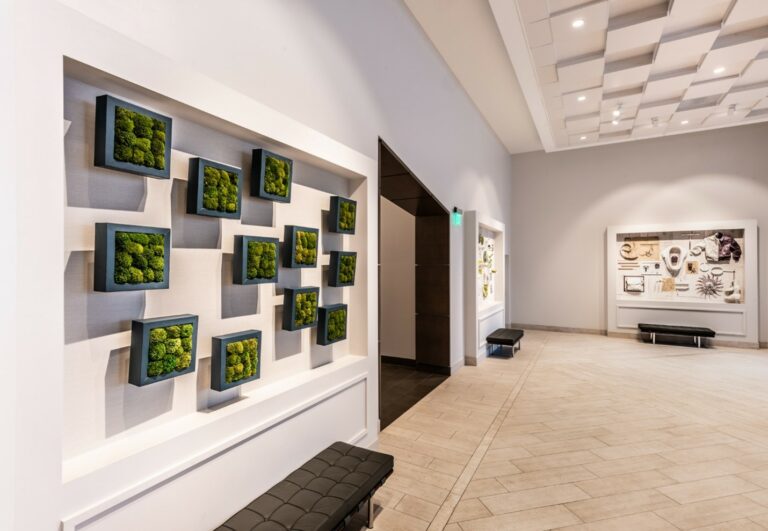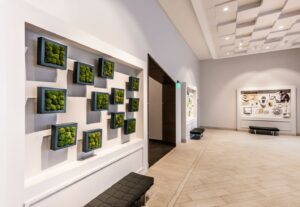 Solaire 8250 – Lobby designed by SR/A.
Beyond proximity to green spaces which is a consideration of developers and architects when working on a building, interior designers can also be part of the process of designing a LEED City. This comes into play through the incorporation of green spaces within buildings such as community gardens or lawn areas in addition to interior green/living walls as seen in the image from our multi-family housing project, Solaire 8250.  SR/A incorporating additional green spaces in our designs in some of our current projects through the design of planting/gardening areas for residents.
Improving the lives of people within an interior space is the ultimate job of an interior designer and one that SR/A takes very seriously as part of our approach to design.  In short, a designer's job is to aid in making life better because when occupants are healthy and happy the community at large benefits. The final words of the LEED Mission Statement are "quality of life."  By setting a path and showing the way, the LEED program and LEED City program seek to better the quality of life for all.  Interior designers have always embraced that mission by finding ways for people to live, work, and play better and healthier within a space and with a continued push toward sustainability and overall betterment, the future looks very bright indeed.
Amy Hinds is a Staff Designer at SR/A.