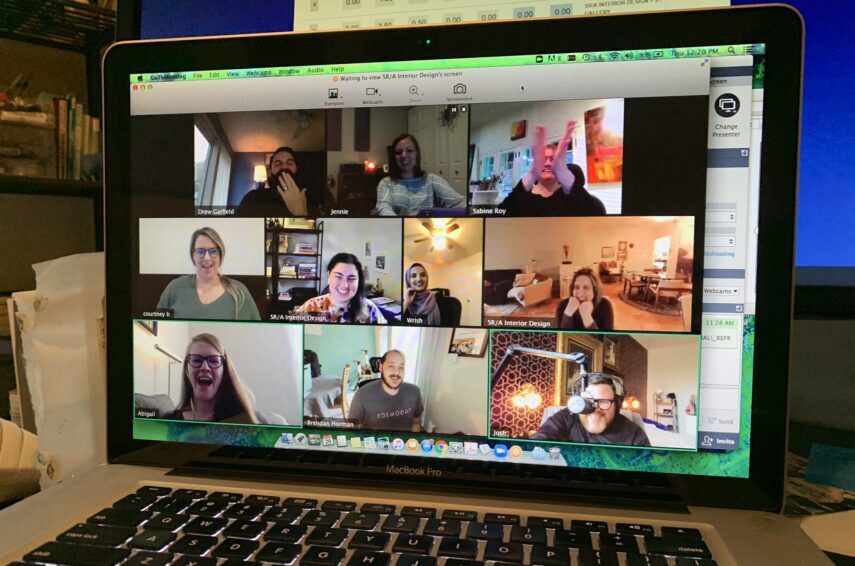 Community is a small noun with a big meaning. Community is not a commodity like coffee, but it certainly can be cultivated and blended to perfection like your favorite cup of joe. At this time of year, and especially in this year, we are drawn closer together in many ways – through gratitude, through charitable acts, through a collective sense of celebration, and countless other ways, big and small. As an interior design firm, clearly, we focus on the physical aspects of a community- Walls to enclose us and ensure safety, focal points – like fireplaces – to unconsciously pull people together, and small touches, like textures and antiques, to create that cozy, almost ineffable sense of belonging.
At SRA we are discovering new ways to contribute to our work family by cultivating a renewed sense of community all our own through interactive quality time during the workday, pushing our creativity with team craft challenges, and collectively sharing our successes while genuinely supporting one another through life's challenges. During this time of virtual connections, our computer screens have become our hearts and though unusual we are still able to create a sense of warmth with her and his own community.
The body of our community is made up of character and integrity, and within it beats a heart of purpose and longing for connection. The hands of our community stay clean (20 seconds of washing at least) while we build new creation spaces, at a safe distance for now. Over time we will grow closer together, again, in a new way. The soul of our community thrives daily through the beautiful colors, shapes, and voices of the occupants within our designs. This is the SR/A community. What does community look like for you right now? Does it exist among your residents? Have you found it with your coworkers, neighbors? We hope so – and we hope you will allow us to be part of your community too.  
Authors:
Josh Sizemore, Office Manager and Jennie Crouch, Certified Designer + Brand Coordinator