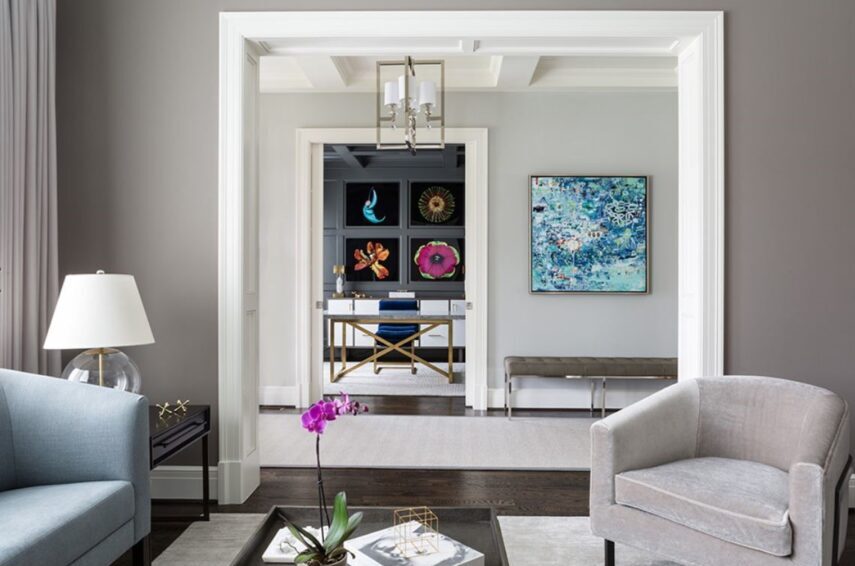 Amazing design takes inspiration from a diverse mix of minds, backgrounds, cultures, and experiences. Here at SR/A, we would like to celebrate inclusions + diversity in the design community by highlighting a minority designer, creator, or industry professional with each of our monthly link round-ups.
Celia Welch Interiors
For our first designer spotlight, we are proud to feature Celia Welch from Celia Welch Interiors. Celia's full-service boutique interior design firm has been featured in Home + Design Magazine, Luxe Magazine, The Washington Post and was named as one of Washingtonian's top 20 designers. Celia has a knack for creating dreamy interiors that are fresh and modern while feeling classic, calming, and serene at the same time. We had the pleasure of sharing an office space with Celia and her team for several years and have witnessed her passion, incredible talent, and her love for design first-hand. You can check out Celia's website here:  Celia Welch Interiors and browse through her swoon-worthy designs on her Instagram page here: Celia Welch Interiors Instagram
October + November Links
At SR/A, we pride ourselves on staying on top of what's happening in design news. It helps us keep tabs on what's fresh, inspiring, and happening in the world—and we make a few headlines of our own, too. Here are some recent articles delving into design, experience, and what's buzzing in our community:
Is It Possible To Turn Plastic Waste Into Affordable Housing?
The emergence of building systems created from recycled plastic waste could empower the architecture and design community to be at the forefront of solving the world's plastic waste pollution.
– Abigail Youngstrom, Designer + Procurement Manager
Smithsonian's Native American Veteran's Memorial slated to open on Wednesday
Memorial design is weighty responsibility (remember the controversy with Maya Lin's Vietnam Memorial?) and not one any designer takes lightly, I'm sure. I appreciate that the Native American Veteran Memorial incorporates cultural traditions, such as a space for prayer cloths. Can't wait to see it in person.
–Jennie Crouch, Certified Designer + Brand Coordinator
The new maximalism-The next big thing in home design is overstuffed, garish, and glorious.
This piece is much more thought-provoking than the title leads on. A brief look at the history of our country, its ideals, and how that often gets translated into interior "trends."
 –Katharine Gatz, Senior Designer + Project Manager
Imagining a Second Life for Midtown Manhattan's Empty Offices
I'm always interested in rethought and repositioned properties. A look into what could happen in cities that "will have less of a need for hotels and Class C office space."
– Drew Garfield, Business Development Lead
Trump's Defeat Didn't Stop His 'Ban' on Modern Architecture
This is an interesting article about the current administration's attempt to ban the use of modern architecture in new federal buildings. Whatever side of the fence you are on politically, it is interesting to read people's different takes on how they feel about this.
– Courtney Bradshaw, Design Intern
The Pandemic-Driven Workplace Shifts That Are Here to Stay
How the Pandemic Is Reshaping Interior Design So Far
As humans we always tend to think of the future, what it might look like and how can we be best prepared. Here are answers to some of the questions that might have crossed your mind about work and workplaces after the pandemic and how COVID-19 impacted the interior design industry in general. 
–Wrishmina Zurmati, Junior Architect
Five Ways The Pandemic Has Influenced Interior Design Trends In 2020
New York City Developers Incorporating COVID-19 Incentives, Amenities
At Home Bars and Wipe Clean Furniture- How the Coronavirus Pandemic Will Impact Interior Design Trends
A few good articles highlighting different ways the COVID-19 pandemic has had an impact on the interior design and multifamily real estate industries.
–Sabine Roy, President + CEO
6 Tips for Getting Published from Real Life Interior Designers
SRA has the "license to design" in the DMV as I understand it. As SRA continues to generate empirical data it would be good to see someone from the firm published if that were possible.
–Josh Sizemore, Office Manager