The idea of creating the look of an entire building from nothing into something can feel elusive to many, but for a design team, it is the greatest creative opportunity. When selecting the aesthetic for a multi-family project, our team first starts with several probing questions. This part of the process is known as programming. For us, this means really getting to know our client – not just their wildest hopes and dreams, but any pain points too.
Ask yourself and design team:
How does the owner want someone to feel when they walk in?
Who will live there?
What kinds of things do those people value?
What materials have created maintenance issues in the past?
From here we can start to build out a space that is the right fit for the building's owner, the future residents, and of course, beautifully designed. We research nearby properties (also known as "comps") to make sure our design is different and stands out among the potential places to live in the area.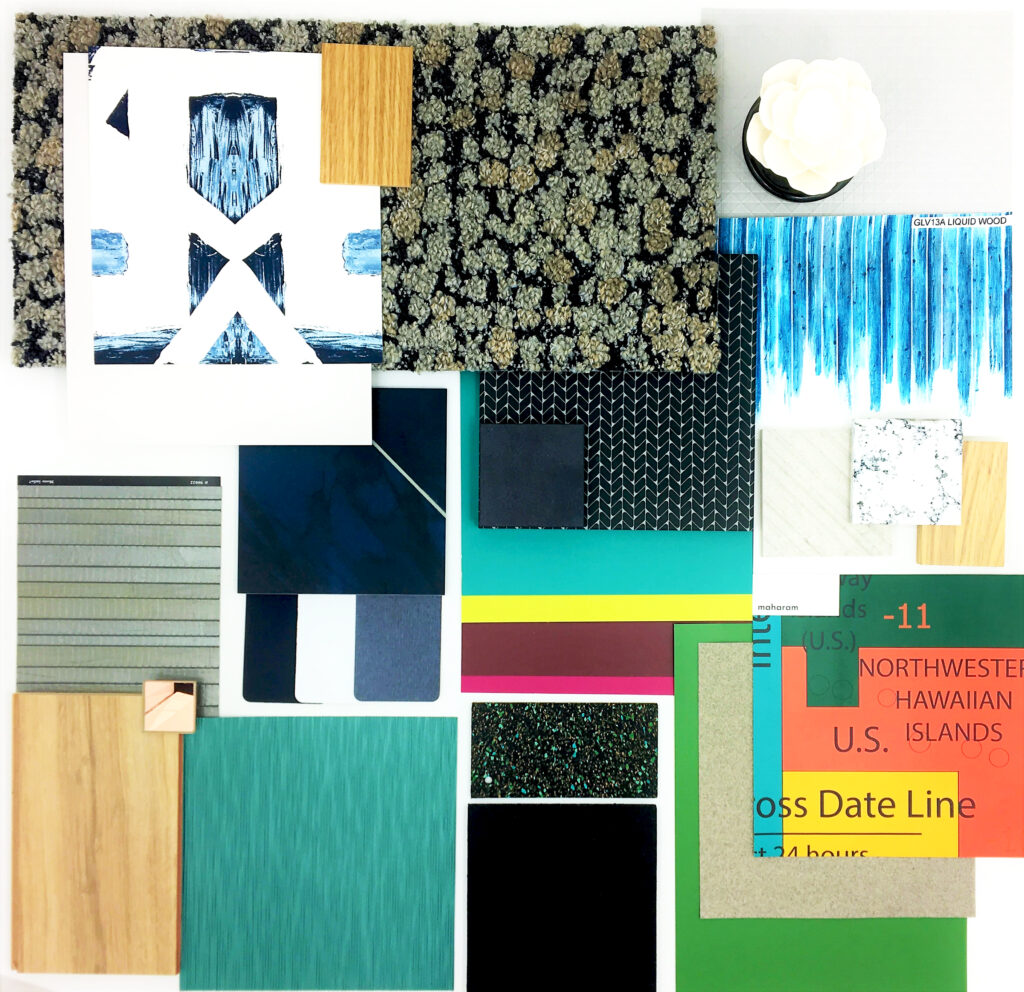 Developing a set of buzzwords is a strategic tactic SR/A practices to make sure we build a consistent vision. Here's an example; Vibrant, intriguing, and refined. After narrowing down your selected keywords, these words become a filter for every color, material, and furniture selection throughout the course of the project. Often, interpretation of the words may vary between each designer in the firm, which eventually leads to unique combinations and visual projections that help the project become more multi-layered and interesting. 
Once the research and uses of the space are complete, next comes the interior architectural selections and design. While the overall process remains the same from project to project, the source of inspiration can differ greatly. A designer can see a piece of art and build a whole room around it from color palette all the way through furniture and accessories. For me personally, I love to travel and I'm constantly on the lookout for a new way to apply finishes or interesting architectural details that haven't been done stateside yet. Interior design often follows the trends of fashion so keeping an eye on the runway and how that translates into ready-to-wear collections is a great way to see what's coming next from interiors fabric manufacturers. This is important to keep in mind when creating a color palette and selecting furniture, art, etc.
The possibilities are endless and while this may sound overwhelming to some, to a designer, this is really where the delight of it all comes from. While there are few general finishes that become true "go-to"s (that perfect white wall paint or wood-look LVT collection), what's key is how they're paired with unique wall coverings and specialty tiles; this is how an interior's distinctive character takes shape. Finding a beautiful light fixture with an interesting shape that you've never seen before feels like Christmas morning! Because SR/A is always in it for the thrill of the hunt, our projects have the benefit of getting that boutique, not-like-anyone-else feel.
I hope this sneak peek into designing helps you understand the process a little better and serves as a starting point when adding character for your interior spaces. Still feeling stuck? Take a look at some of our recent projects to see what inspires you and contact us to discuss design projects!
About the Author:
Katharine Gatz is a Senior Designer and Projects Manager at SR/A Interior Design. She holds a passion for helping multi-family developers create communities that both attract and retain residents through functional, innovative, and buzz-worthy designs.