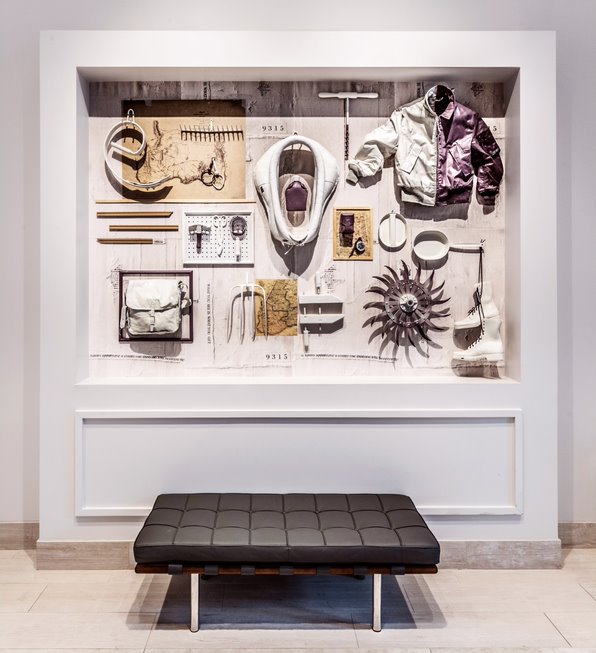 RAVES
Amazing design takes inspiration from a diverse mix of minds, backgrounds, cultures, and experiences. Here at SR/A, we would like to celebrate inclusions + diversity in the design community by highlighting a minority designer, creator, or industry professional with each of our monthly research round-ups. 
Anne Marie Cherre 
For this month's "rave" we would like to feature Anne Marie Cherre. Anne Marie is a Washington, D.C. based multidisciplinary artist and member of the LGBTQ community. She describes the inspiration for her work as "the juxtaposition of outdoor lifestyle and urban surroundings." We have been fortunate to work on a number of projects with Anne Marie, most recently being an innovative art install in the lobby of our Ripley Solaire project. In addition to her art, Anne Marie is a Product Development & Product Specialist at Stone Source where she proudly serves on Stone Source's Diversity & Inclusion Committee. To learn more about Anne Marie and see some of her beautiful work, visit her website at www.annemariecherre.com.  
RESEARCH
At SR/A, we pride ourselves on staying on top of what's happening in design news. It helps us keep tabs on what's fresh, inspiring, and happening in the world—and we make a few headlines of our own, too. Here are some recent articles delving into design, experience, and what's buzzing in our community: 
I love how these DC-based designers turned lemons into lemonade by focusing their business on zoom-worthy spaces during these tough times. And they have some good tips too! 
 –Jennie Crouch, Certified Designer + Brand Coordinator 
The abstract outlines the relationship between nature and human biology and the process of creating a positive experience by design.  I've found myself looking differently at the natural palette of colors in city architecture, local woodlands as well other areas my eye may not necessarily look for a pallet of color to bring inside or to another medium of expression. I've often found it very interesting how natural processes like erosion, rust, sunlight, heat , and pressure…create color and design textures that may not necessarily have been generated if it were not for those circumstances.  
–Josh Sizemore, Office Manager  
–Sabine Roy, President + CEO 
An interesting speculation on the future building methods of multifamily and other high rise buildings. 
–Katharine Gatz, Senior Designer + Project Manager 
As an interior designer, I like to have an understanding of upcoming trends.  However, just like the ripped jeans trend, I choose to participate in trends or not (on the ripped jeans it is a clear no for me) based on my own design eye and gut for what a space should look and feel like.  Still, it is fun to look at the trend predictions, and although this article has a residential design bent, I like to have a well-rounded exposure to various interior design genres to fuel my desire to create interesting spaces that don't neatly fit within the lines of one specific genre.  
–Jessica Watts, Creative Operations Director 
Interesting article from Australia on how deeply life, possibly permanently, is changing in positive ways for people as a result of the pandemic. 
Some quotes I liked from the article are:  
The expectation we [real estate agents] are seeing on the ground is instead of it being about work-life balance it's become life-work balance, it's flipped around."

 

observers see signs of a grand "reassessment" among people making choices they didn't know they had.

 

People began to question how they could sustain an existence with less maddening tension between work and "life", find time to spend on things more joyful than commuting and achieve a more manageable juggle.

 

Salt says that like the experience of those who lived through the world wars, the shock of disruption and the 

realisation

 that what we believed to be permanent could be tenuous encouraged people to seek ways to make the most of their time: "When you go through war or come back from war you want to reinvent or create something new or different, [like a war] this has been a circuit-breaker."

 
– Drew Garfield, Relationship Manager 
And in honor of Black History Month, check out these good reads: