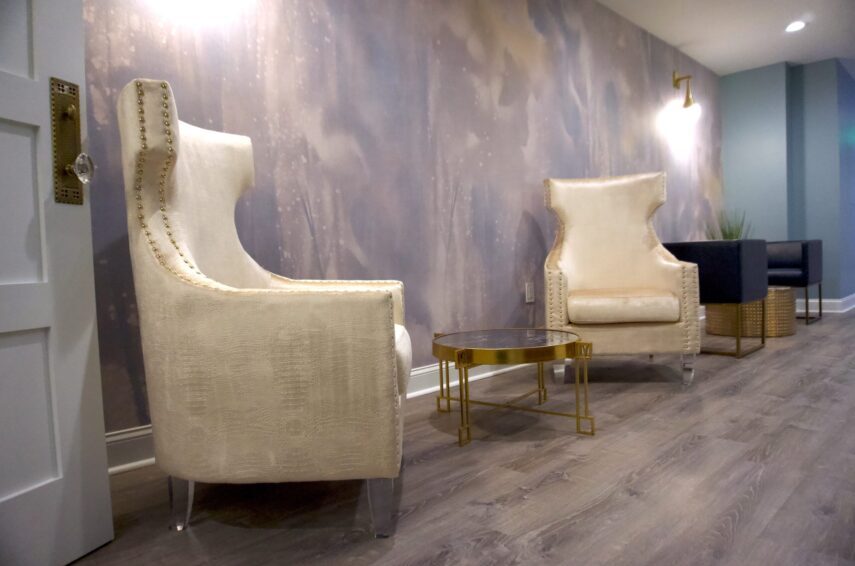 When starting a renovation project, a design team never really knows what they're in for.  It's always a unique set of surprises when you start opening ceilings and tearing down walls.  As part of our SR/A Too division, the team took on an office renovation that allowed Kentlands Psychotherapy to expand its practice in the fall of 2019.  As we expected there were surprises along the way, not least of which was the emergence of a worldwide pandemic!
With a love of curating unique furniture pieces and a sense of style all her own, our client had a great vision for a space that welcomed the entire community, particularly the children, to come and take a load off.  A respite that felt soothing as soon as you walked in the door but without the stuffiness and formality of a spa.  SR/A was tasked with translating this elusive feeling into a reality while bringing in functionality for those who work from the space day in and day out.
Our process started with a walk of the space to get to know the bones of what we were working with and partnering with an architect that could advise what changes were possible. By relocating a troublesome IT closet, removing a pair of underutilized coat closets, and the addition of a few walls, a new layout was finalized that would allow for two private offices, a kids' space, a conference room, and a spacious reception area. An angled wall across from the entrance helped add dynamism to the reception area while also opening up the tight corridor that leads to the restroom and utility spaces. This quickly became an obvious spot for a fun art installation that could serve two purposes – a focal design feature and keeping children safely occupied while they wait.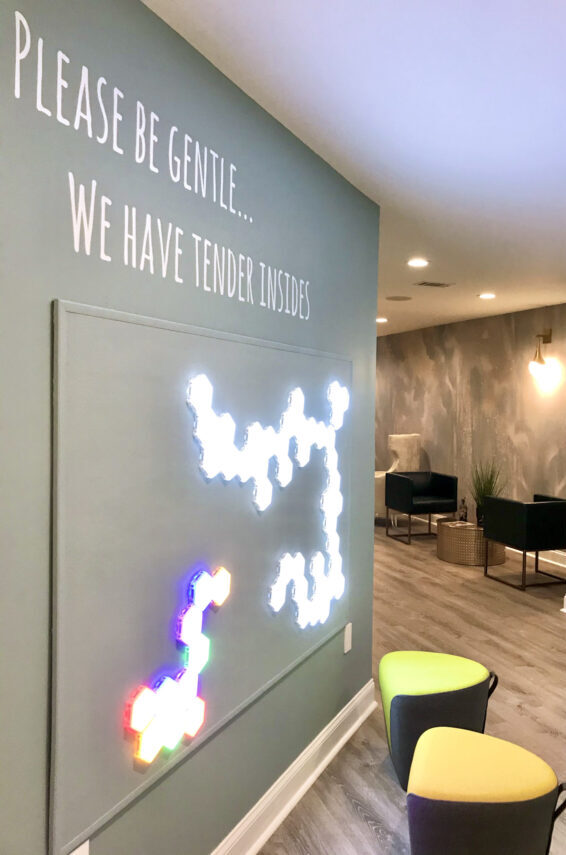 "The Den" as the project space lovingly became known, is underground with conservative ceiling heights and no windows which meant making sure lighting was thoughtful and nothing was too visually heavy. In the reception, this vision started with soft but ample lighting, subdued blue walls, and light wood-look LVT floors while grounding the space with a hospitality station in a warm wood and rich tones in the furniture.
These finishes were continued into the conference room at the end of the space to allow it to feel like an extension of the reception area when not in use. The glass doors at the top of the built-ins are an example of one of those unforeseen circumstances of a renovation, though this time the cards fell in our favor.  (The thousands of wires from various vendors routed through the previously-mentioned IT closet, not so much.) Originally there was a soffit that carried electrical wiring below the 8' ceiling of the rest of the room but during construction, the team found they were able to tuck these into the higher ceiling and gain an extra foot of space. Thanks to the combination of layered elements and ample storage this space ended up being the favorite room of both the client and the designer!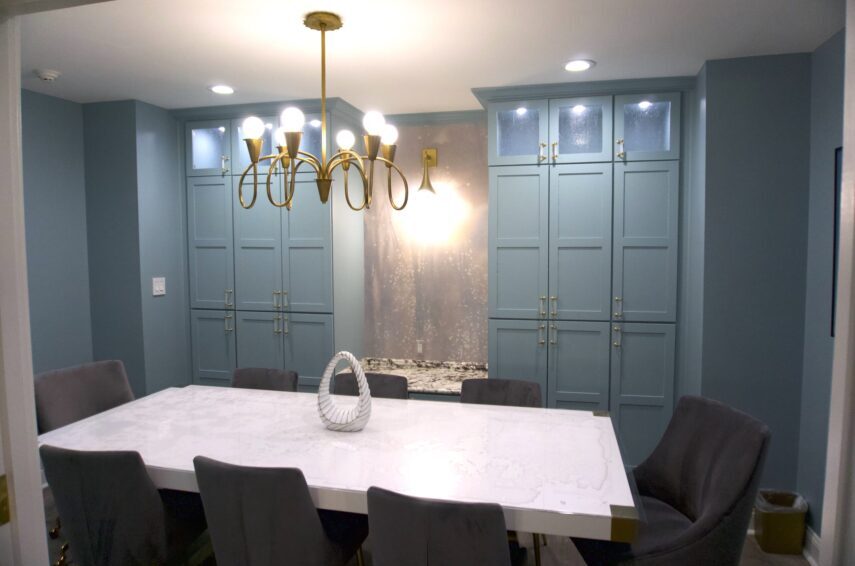 Inside the kids' room, the light-and-bright approach was continued with touches of whimsy brought in through things like lighting that resembles clouds and a swinging chair. Inside the private offices, we decided to take a different approach and use richer colors and moody lighting to create a cozy feeling that encourages letting your guard down. Simple trim and nature-inspired sconces add some texture without breaking the bank.
Part-way through the renovation, the world was hit with the COVID-19 pandemic. While construction and interior design are considered essential businesses, this doesn't mean that projects went unaffected. Supply chains in all industries were hit and this meant a few minor reselections and cost-savings for this project. Luckily we had a client that was flexible and a construction team that was experienced in rolling with the punches. Now, as spaces are starting to cautiously open back up, we've been able to see the final touches put in place at Kentlands Psychotherapy and the results are truly transformative!  I can't think of a better time to have a zen space like this one to welcome members of the community to release their burdens and look towards a brighter future.
SR/A provided design services, bid assistance, construction administration, and furniture consultation on this project.
ABOUT THE AUTHOR
Katharine Gatz serves as SR/A's Senior Designer + Projects Manager. Her favorite colleague is her five-year-old rescue dog, Graham.