What could interior designers and Hollywood effects artists possibly have in common? The two professions might seem like they exist in separate spheres, but they have more in common than most people realize. More and more, our clients are asking to see realistic renderings of spaces we design. To communicate a realistic perspective of a space, we at SR/A will often look to other creative professions and how they work to communicate reality to viewers and clients. By looking at how interior designers and Hollywood effects artists operate; with their goals to create believable environments that tell a story or evoke an emotional response from those who experience it without needing them to be real, one can learn a lot.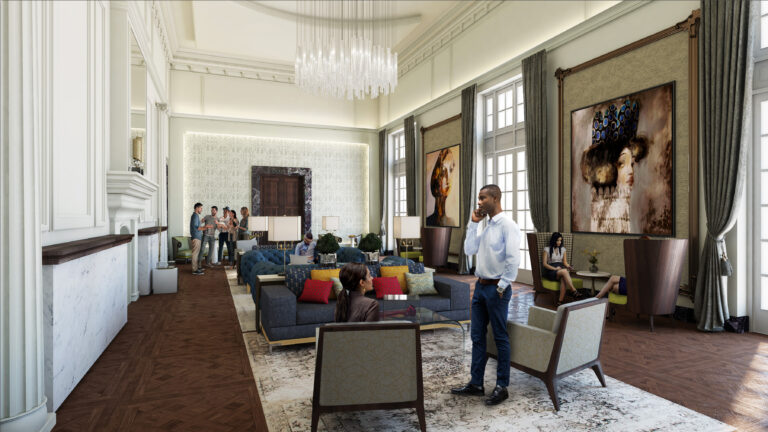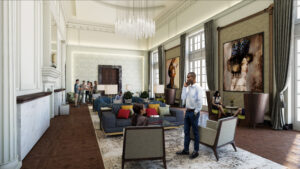 SR/A Rendering of the Ballroom at Modera Sedici
Similarities can be seen when comparing the basic structures of cinema and the built environment, and the respective roles of the of each profession. Let's explore those similarities closer. The effects artist (interior designer) answers to a director (architect) who answers to a producer (developer) who brings an experience to life that is appealing to its' audience (inhabitants).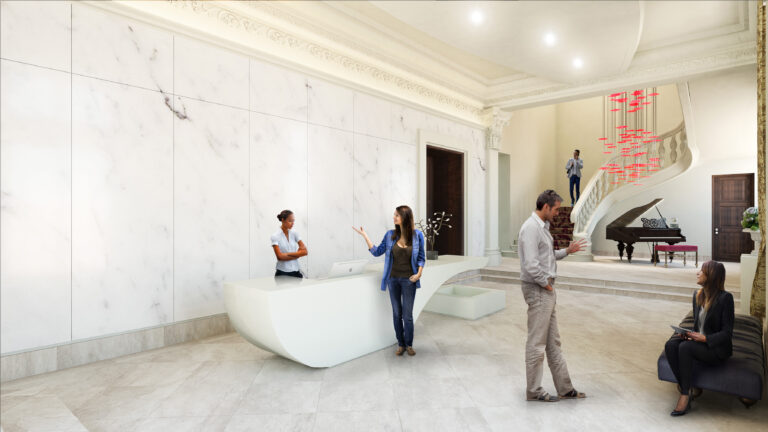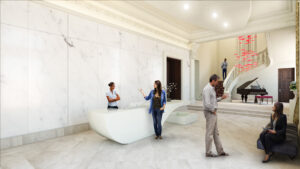 SR/A Rendering of the Lobby at Modera Sedici
Though this is a simplified overview, similarities exist when you look at the means and methods both architects/interior designers and those in Hollywood movie production use to achieve their goals. Movie effects are typically achieved one of two ways: practical effects and visual effects. Practical effects include things like building miniature sets when similar environments cannot be achieved at full scale or using paintings to substitute as a background vista. Visual effects rely on compositing a variety of digital elements to achieve the desired image or scene. Similarly, the interior designer makes use of more physical, tactile approaches (eg. scale models or finish compositions) as well as digital ones (eg. renderings). Even the project development processes have plenty in common: storyboards and schematic design, gathering of materials, building out environmental details, populating scenes with entourage, and compiling those scenes into a story that elevates the overall project.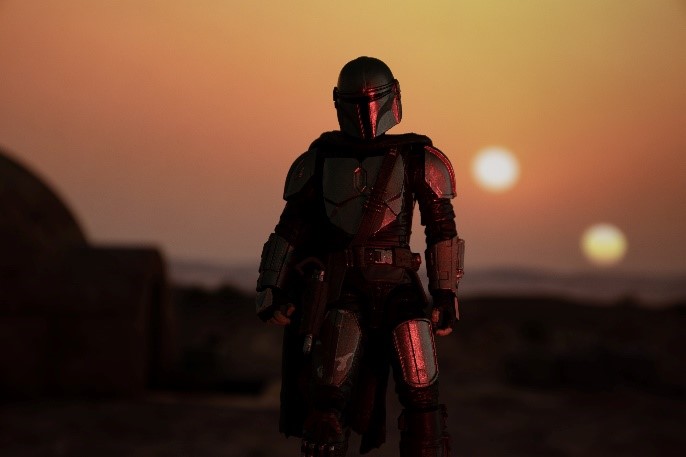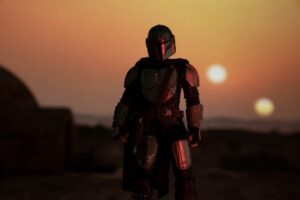 Photo courtesy of Unsplash – The Mandalorian, a TV show that relied heavily on Hollywood effects
Now that it's apparent just how similar interior designers and effects artists are, let's look at a few ways the former could learn from the latter:
Choosing the correct format: Even though technology has advanced to a point where most effects can be done digitally, artists continue to use practical effects because they provide a level of interactivity that has not been possible until recent technological advancements like the live backdrop used in the Mandalorian TV series (prior to this, cast and crew would need to use their imagination while seeing a room covered in blue). In those instances, scale miniature sets and partial full-size sets are made so the team can interact and experience the creative vision in a tactile, physical way, long before it is fully developed and finalized in postproduction.
Interior designers have become more reliant on the digital side of design development, and while building models is no longer as common the effect that even simplistic physical models can have during the early stages of design is undeniable. Showing inspiration images or crude perspectives of an undeveloped space does a decent enough job of conveying the intent for individual spaces, but one thing that is lost is the cohesion between the spaces. A physical model can be developed with only a floor plan, and even a simplistic model is a great tool to help the team envision how they can interact with the variety of interior spaces, how they navigate through them, and the story they tell. The task of creating physical models is also no longer a difficult one with the accessibility of 3D printers and laser cutters simplifying much of the process.
Making the scene believable and making it tell a story: When working in a physical medium, Hollywood effects artists have developed a variety of methods to make materials take on the properties of others (eg. giving lightweight plaster the appearance of heavy rock), and they have experience knowing which textures scale well, such as wood and stone, making them ideal for miniatures. With visual effects, artists have many tools and techniques to bring their environments to life, including compositing many different images together to tell a story, going as far as developing details of wear in textures, making the world feel lived-in and authentic.
Interior designers typically don't place as much importance in developing renderings to this level of detail, and creating physical models is usually an investment developers forego (aside from an overall building model by the architect, sometimes). This is understandable since construction budgets are incomparable to cinema and television, and design budgets are but a fraction of that, but having good physical and digital representations of a space can not only help the developer see the designer's vision, but also help the designer develop the space as a whole and make a more cohesive story. With technology like 3D printers, it is possible for interior designers to re-incorporate physical models back into their design process without breaking the bank, and much of the software used in visual effects (eg. Autodesk 3DS Max) is already used to create interior design renderings, and with its continued improvement with backing from the movie industry, interior designers can also reap the rewards as the software becomes easier to use and more integrated with more typical design software such as Revit.
There is so much crossover and opportunities to learn from other professions to make interior design more impactful and streamline design processes. These changes and improvements to the design process are only possible if developers realize their importance and advocate their inclusion. This will in turn provide designers and architects an opportunity to invest their time and skills to the process of creating realistic, authentic renderings and other design materials for clients. What do you think of realistic renderings in interior design?
Paul Gorohkov is the Documentation Manager at SR/A.