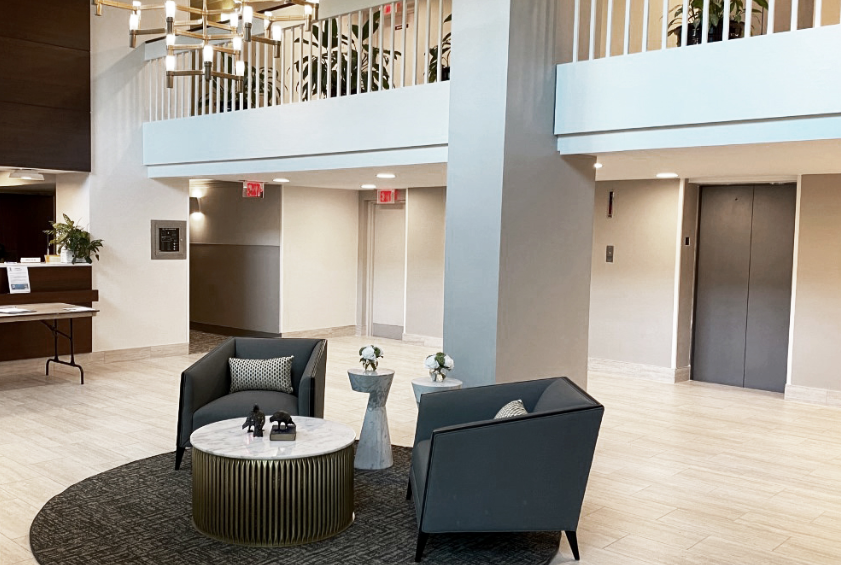 The SR/A team is currently wrapping up a renovation at Idylwood Towers, a condo property in Falls Church, VA. The contract to begin work was signed with the Idylwood Towers Condo Board in the fall of 2018 – just as Junior Architect Wrishmina Zurmati first joined SR/A. Idylwood was the first project Wrishmina has experienced at SR/A, from concept to design to documentation to installation. Below is a Q & A with Wrishmina sharing her takeaways from this renovation project.
How did creating the documentation for a renovation vs. a new construction project differ for you? More or less time-consuming? Did you have to use a different thought process?
There is generally a big difference in creating documentation for a renovation vs. a new construction project. With renovations, the scope is always smaller, and the budgets are always lower, which means we usually don't have the ability to create our usual large (100+) page sheet sets, develop as many unique design details, or schedule as wide a variety of finishes, fixtures, and equipment as time and fees typically allow us to do in a new construction project. Because it's not new construction, sometimes there is demolition involved, so this has to be accounted for in our plans. 
Also, not directly related to documentation, but we often engage in more communication with other trades to navigate the challenges of putting new features (architectural, electrical, plumbing, etc.) into an already-existing space.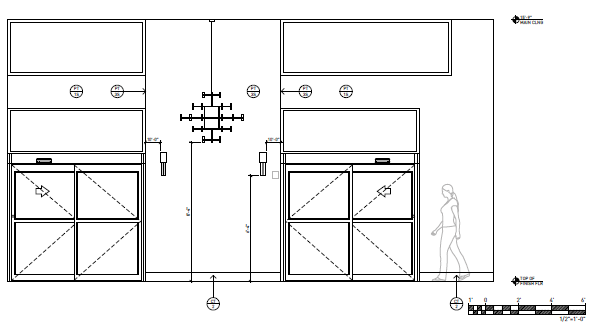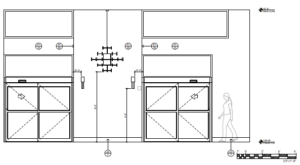 What did it mean to you to see the completed project in person (as one of our documentation experts, Wrishmina, does not typically participate in completed project installs)?
It felt surreal, seeing my work on paper becoming a reality. Even though I just had a small part in designing the building – I was mainly involved in site survey, documentation, and installation. It was the final building that made the effort worthwhile.
What was your experience participating in the client meetings and phone calls (again, something Wrishmina did for the first time at SR/A on this project)? 
As a junior staff member, having the opportunity to attend client phone calls during this project's construction process was beneficial both to me professionally and in terms of project efficiency. In the past, typically, my manager would update me about the changes and the points discussed during the calls. However, being present myself enabled me, as a key member of the documentation team, to be on the same page as other parties involved to avoid misunderstandings and delays. It was also an excellent opportunity to learn about the project's progress, the client's expectations and concerns, more importantly, how the senior staff make decisions in particular circumstances and solve design issues when they arise during the construction phase.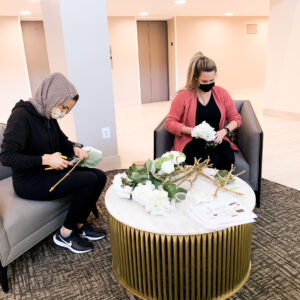 Wrishmina assisting with the FF+E install at Idylwood Towers (on left)
What did the space feel like when you went for the site survey vs. when you were there for the install? 
When I first stepped into the building for a site survey with one of my colleagues, the space felt dark, unappealing, and outdated. After a few months, when I visited the building for the install, it was a completely different space. It looked brighter, prettier, and more welcoming. Not to sound biased, but I think we did a fantastic job in upgrading and transforming it into something more modern and welcoming.
Curious to hear more about the renovation at Idylwood Towers? Look for a project recap blog post (with more pictures!) coming soon.
ABOUT THE AUTHOR
Wrishmina Zurmati is a Junior Architect at SR/A Interior Design. Besides being a valued member of our documentation team, Wrishmina is an avid photographer and always brings a smile into the room.