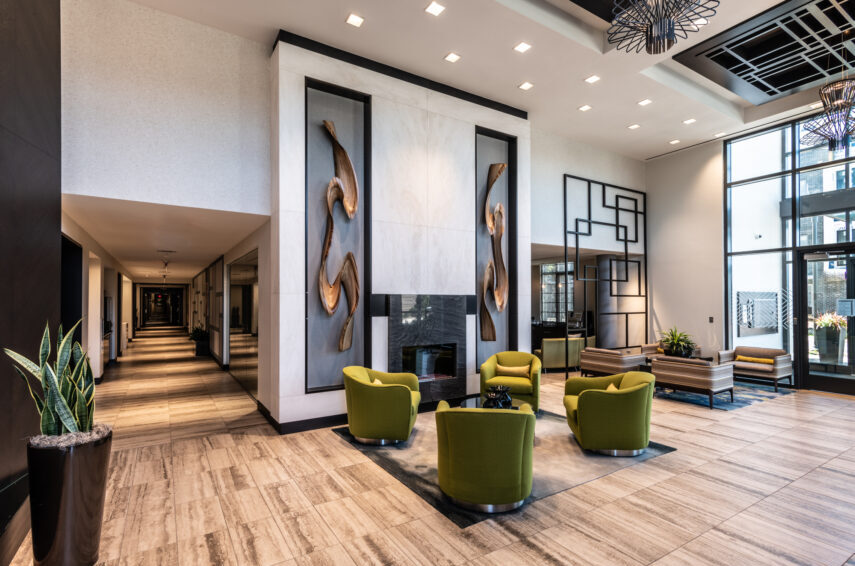 The Denizen is a 336-unit multifamily project SR/A recently completed with Rushmark Properties and Greystar. Located in Alexandria, VA, this 23-story property is already serving as a new placemaking focal point in the Eisenhower Square neighborhood. SR/A is thrilled to be currently working on the sister property, slated for completion in 2022.
Here are five things I learned while working on this project…
Ceilings make Powerful Impressions
While the typical crisp white drywall ceiling can help ground a room by creating the illusion of a vast sky-like overhead expanse, a focal ceiling design can truly frame a space, creating dynamic layers of depth. Throughout this building, you'll find the ceilings are dressed to impress. From copper coffers and plum drops to rich wood slats, there is no shortage of wow factor. However, in each instance, the strong ceiling is well balanced with slightly more subdued counterparts like warm wood floors to anchor the dark wood slat ceiling or saturated carpet stripes that complement the angular plum drop ceiling.
Make it Home. Make it Yours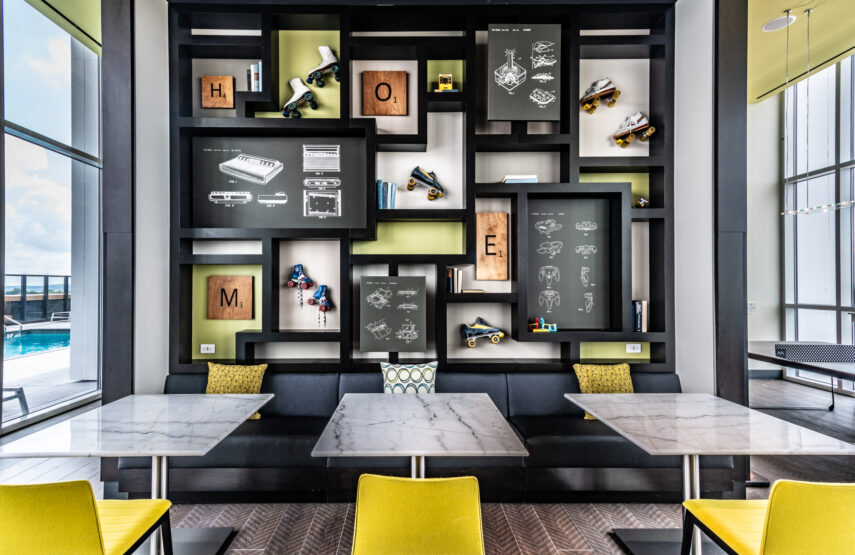 In the last several years, we've seen the trend for personalization in the home grow. It seems odd that it's taken a while for the rest of the design industry to catch on because here at SR/A, integrating individualized elements that cultivate a sense of ownership has always been at the forefront of our designs. We thoughtfully infuse moments that connect to our beloved pets or evoke our thirst for adventure, which increases our attachment to our environment and our sense of belonging.

Quirky vintage features are incorporated in unexpected ways throughout that make people smile. The nostalgia of seeing a roller skate, bringing many of us back a favorite childhood memory, fosters stronger ties to a space and makes you feel at home in communal areas.
Repeat Motifs for Continuity
While a disjointed design can leave your head spinning, a well-designed space should not rely on redundant color schemes or overt themes to tie the look together. Cohesion is best achieved through the subtle art of suggestion by reintroducing similar elements in new forms and applications. For the Denizen, we produced a geometric series that tells a story as it progresses through the building while also forming a seamless accompaniment for a variety of amenity spaces. In the mailroom, the monochromatic panels guide you down the corridor; for the clubroom, a geometric floor to ceiling divider visually separates different zones within a singular room, and within the fitness center, a shoji style screen door serves as a barrier between the active cardio/weights area and the smaller studio.
Bold Statements Create Unforgettable Moments
We want to live in spaces that inspire us.

Whether it's through distinctive aspects such as three-dimensional sculptures, bright pops of color of a focal art piece, striking messages of "No Excuses," or sharp contrasting elements. Good design uses those crucial opportunities to make magic. Remember, less is more. Compliment bold focal pieces with similar soft hues, neutral textures, dark, subdued backdrops, so they truly stand out.
Don't Overlook the Details
No great design is complete without select thoughtful details that bind everything together

Strategic use of tiling trends excites intrigue without overwhelming a space.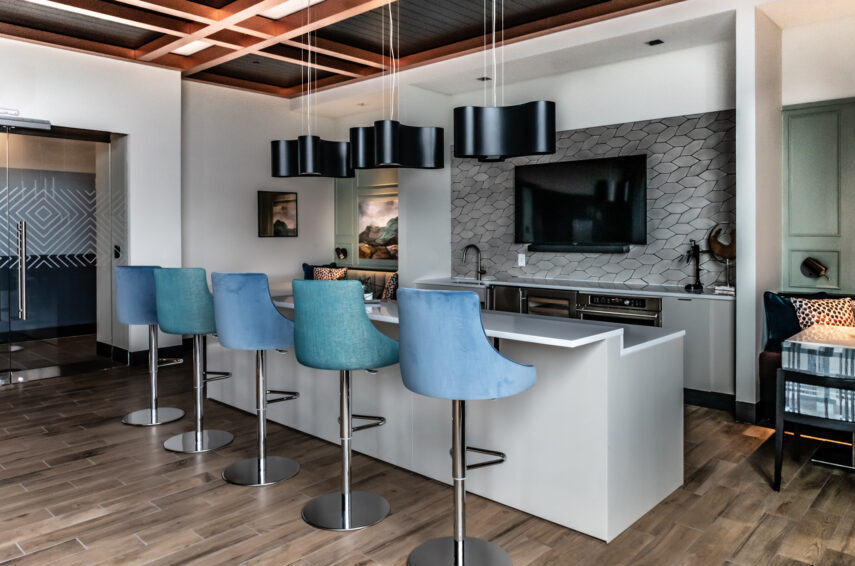 Custom table legs that coordinate with their corresponding barstool fabrics create a perfectly polished look like a tailored suit with a well-paired pocket square.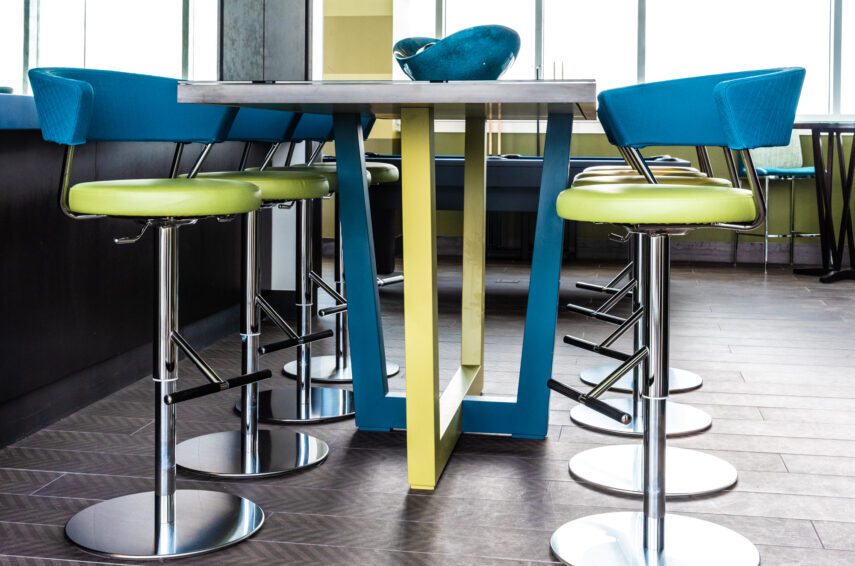 Don't forget to keep an eye out for playful touches like astronaut lights that add a bit of whimsy or pooches in goggles that remind us not to take life too seriously.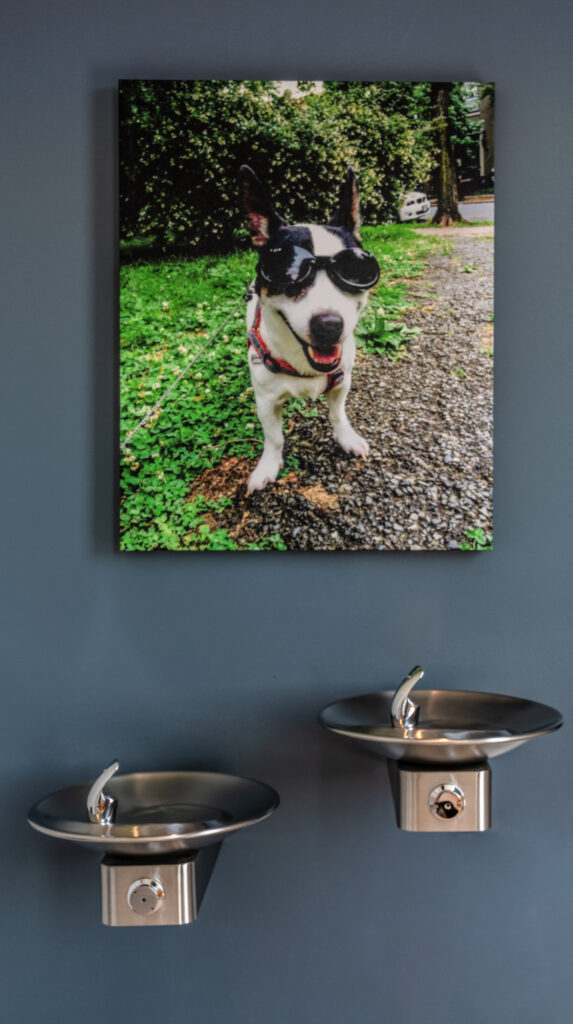 About the Author:
Abigail Youngstrom is a Designer and Procurement Manager at SR/A. She recently moved to Denver Colorado because she actually likes cold weather.