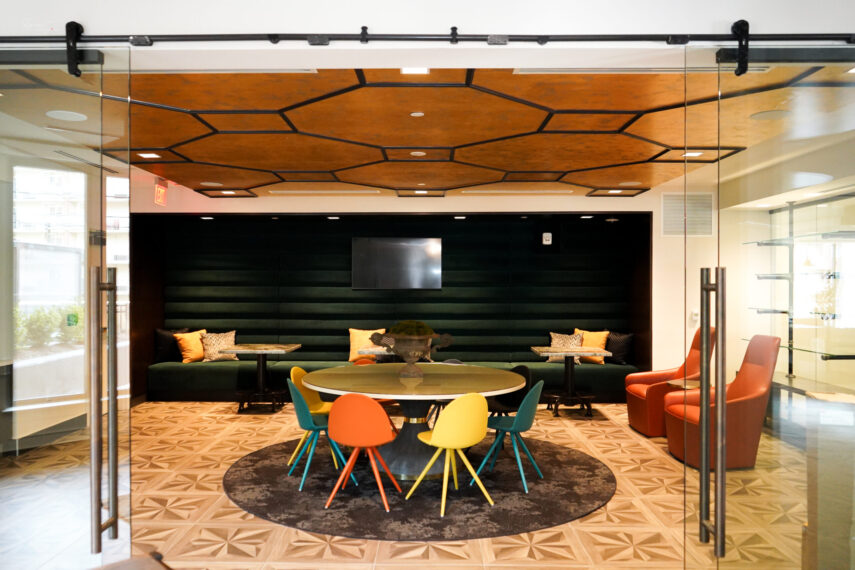 Feature Photo: Avec on H Street, Club Room Design by SR/A
It has now been several months since multi-family communities have had to close building amenities due to the coronavirus. Understandably, building residents are anxious to use their building's fitness areas, co-working spaces, pools, and bar-b-que areas, to name a few. Now that shelter-in-place restrictions are easing, how do property managers invite their residents back into these spaces safely? Here are a few quick ideas on reopening amenity spaces in ways that could help prevent further community spread of the virus.
Implement Reservation Policies and Occupancy Limitations
Reduce the maximum occupancy size in spaces like the fitness center, at the pool, or in community lounges and reduce the number of guests each resident can have to avoid areas from being overcrowded. Also, create reservation timeslots and put time restrictions on how long residents can use an amenity. Implementing technology to help support this will be very important in keeping residents happy and keeping the process organized. Properties can use an online portal that allows residents to book amenity reservations or have a push notification that alerts residents when space becomes available.
Hand Sanitizing Stations, Cleaning Supplies, and Interchangeable Slip Covers
Set up aesthetically pleasing PPE stations throughout the building equipped with hand sanitizer and extra masks. Incorporate signage reminding residents to wear masks and practice social distancing while in public areas of the building. Another idea could be to provide cleaning supply kits in amenity spaces so that residents can wipe down things like fitness equipment and lounge chairs after using them. For indoor furniture, interchangeable slipcovers could be used in between usage to help keep furniture germ free.
Remove Extra Seating or Equipment and Create Designated Zones
Rearrange pool or resident lounge seating to maximize space and make it easier for residents to follow social distancing guidelines. In fitness areas, remove or rope off equipment to allow residents to stay 6' apart while exercising. It could also help create zones with-in amenity areas, in which each resident could be assigned their designated area, so they are not traveling throughout the space. Floor decals or partitions could be used to identify each zone.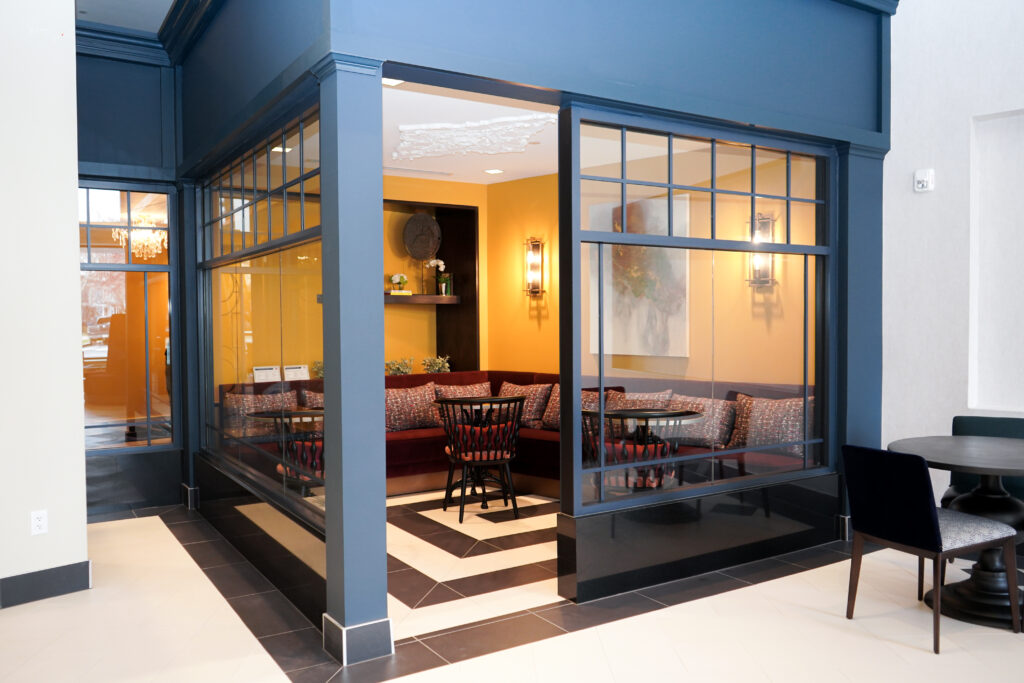 Ventilation Systems and Air Purifiers
There is still a lot we do not know about Covid-19, but studies have shown that one of the primary sources of spread could be via air droplets. A long-term solution could be to reconfigure ventilation systems to lessen the amount of contaminated air circulating through indoor spaces. An immediate solution could be to add extra air purifiers or air-purifying plants into indoor space. Plants could also be used to create partitions or circulation paths to help keep residents 6' apart in an aesthetically pleasing way.
There are undoubtedly more long-term solutions that we, as designers, will need to consider in the wake of Covid-19. Hopefully, these ideas are immediate actions that properties can start implementing to keep their residents safe and happy!
About the Author:
Courtney Bradshaw is a design intern who recently finished her MFA in Interior Architecture at the Corcoran School of Arts and Design at GWU.