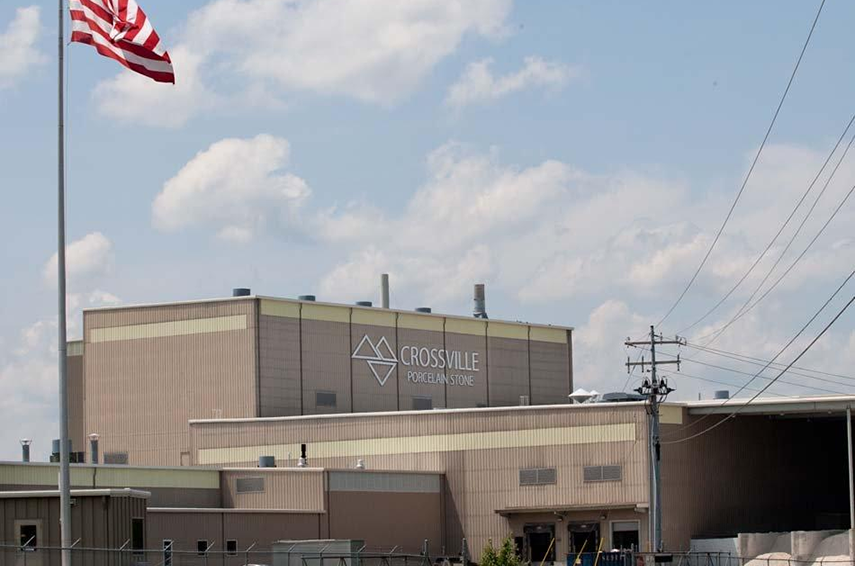 As part of our ongoing commitment to share relevant, timely, and expert content for the design and development industry, please enjoy this guest post from our trusted material vendor: Mike Hammer at Mosaic Tile.
The tile industry has changed drastically over my 36 years in the industry, sometimes due to internal progress and sometimes due to external factors – such as what is happening now with the worldwide pandemic.
THE EARLY 1990s – THE ARRIVAL OF PORCELAIN
In the '80s, the norm was ceramic tile for floors and walls, using 4 ¼" x 4 ¼", 6″ x 6″ and 8″ x 8″ formats to larger 12″ x 12″ sizes in the early '90s and then the introduction of porcelain tile as a design option. Porcelain was new technology, and soon everyone could see the advantages, but waiting for it to come from Europe was not something we were all used to. Crossville Ceramics was the first to start making porcelain tile in the USA. Now all the major porcelain manufactures are setting up manufacturing plants in the Tennessee area because it is central to where all the raw material that makes porcelain originate – Feldspar, Calin, Clay, and Sand.
Porcelain started as a through-body product, but this limited the look of the tile. It was desired to have porcelain look like a ceramic tile or a natural stone, which had to be glazed to give it that appearance, bringing the next industry innovation of a combination of through-body and glazed technology. Over the years with improved technology we can now offer product that looks more like natural stone and in larger sizes 12″ x 24″ up to 48″ x 94″ + in various thicknesses and applications.
From a supply perspective, we have always strived to enhance our relationships with the design community by becoming credible resources, educating the specifier on installation, supplying a readily available quality product at the correct price points for the project.
THE EARLY 2000s – ITALY SUPPLIES TO U.S.
In the early 2000s, the Italian economy was having difficulties, and they began introducing product into the American market. This was new and exciting and brought Italian technology to the U.S. It did come with some challenges, as most of this product was not stocked in the U.S. and brought lead time challenges to projects which we did not have to deal with previously.
THE LATE 2000s – RECESSION IMPACTS INDUSTRY
In 2008-2011 we had a downturn in our economy, and projects went on hold or were canceled. We also began seeing more manufacturers and distributors competing for the decreasing amount of work available. The result was falling prices to keep market share and product now being sourced from all over the world. Chinese manufactured product was creeping into the market to meet this demand, but this created longer timelines and at times quality issues (less expensive product without the same standard of quality). Educating the specifier became extremely important and suggesting not to base the design purely on color, format, and price.
THE 2010s – TECHNOLOGY CHANGES RELATIONSHIPS
The next challenge we faced was the technology boom. Social media, texting, and emailing became the primary way to communicate with the younger specifiers, rather than a phone call or face to face meeting. Suppliers were contacted electronically for info with references to Pinterest pages or design catalogs. The internet linked designers to web pages to find product rather than contacting the supplier directly. Web pages had to be current and continuously updated to make sure your product was out there; otherwise, you might not be contacted for a product. The pace of business has increased, and the timelines to design a project have gotten shorter and shorter, forcing the designer to find resources quickly.
2020 – GLOBAL PANDEMIC
What has COVID-19 done to everyone? We all spend so much of our lives working and not seeing our families, and now we are home with our families and trying to balance work and family. Some jobs are on hold, and others are moving forward at a blistering pace in design.
Construction has slowed, financial penalties are adding up, and all imported product is being switched to domestic stock or domestic manufactures. Now it is mandatory that suppliers' web pages be up to date with product availability. Specifiers are adjusting work schedules to all hours to get work completed – requesting materials be sent to their homes and ordering product from supply sources like Material Bank where they can have samples the next day. Suppliers are hitting social media, advertising, and promoting education and product presentations virtually.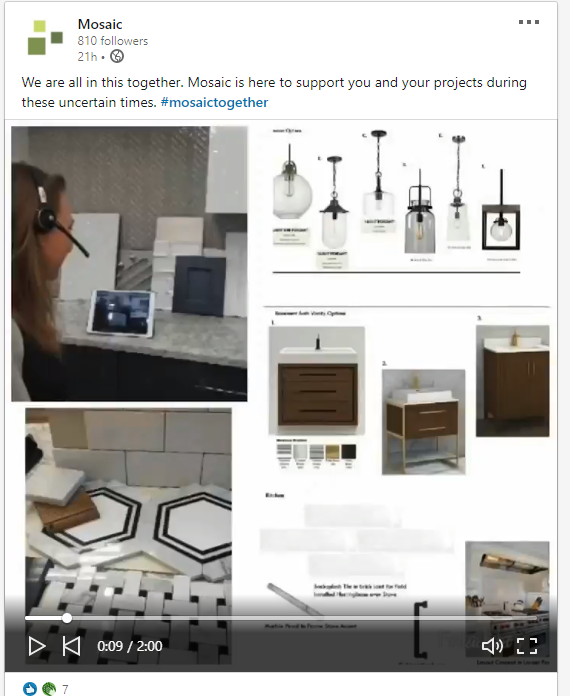 I think in a lot of ways, virtual appointments can be effective now that we are social distancing, but for how long? Designers are hopefully making lists of good, credible reps who are useful resources for them to reach out to get things done. We all crave social interaction, and my hope is this will bring things back to more how we did business 15 years ago; maybe this a pipe dream. Relationships are what this industry is built on, and you can't get tile from just anyone. Credible sources are there the long haul, not for the single project, and we want to help make you and your projects successful.
Let us hope we can get back to the old way of doing business soon!
Please Stay Safe!
Mosaic Tile, headquartered in Chantilly Virginia, was founded 47 years ago. The company began as a wholesaler, importer, and distributor of ceramic tile and natural stone in Virginia, with continued growth to 10 locations from Maryland to North Carolina. Five years ago, Mosaic continued to expand, creating two divisions Mosaic Tile Home Interiors and Mosaic Commercial Solutions. MTHI offers a full line of Home interiors products, including plumbing, cabinetry, lighting, hardwood, and luxury vinyl. Mosaic Commercial Solutions continues to support and expand our relationships with contractors and the architectural and design community with our full line of products. Explore our entire offering at www.mosaictileco.com