As a parent to two small children, the months between November and March are usually filled with various colds, sniffles and other nasties that seem to be part and parcel of having young kids. Inevitably these various ailments lead to a certain amount of stress since we are stuck inside for an extended period as well as a keen desire for fresh air, sunshine, and warmer temperatures. Even for those not dealing with teaching a four-year old how to properly blow their nose; winter can be a tough season on one's physical and mental health as we all are spending more time indoors potentially in spaces that don't support our well-being.
The US Environmental Protection Agency notes that on average, Americans spend 90% of their time indoors. The cold and grey of winter coupled with winter colds and viruses will often lead to more time spent indoors. Indeed, for some, the change of the season can cause feelings of depression when the days get shorter in the fall and winter. Seasonal Affective Disorder (SAD), which the National Institute of Mental Health defines as type of depression characterized by its recurrent seasonal pattern, with symptoms lasting about 4 to 5 months per year impacts about 7% of the US population.
While there are many suggestions from different professions on how to combat stress and SAD, consideration of interior spaces within the context of physical and mental well-being is especially important in multifamily residential design. SR/A has some suggestions on how interior design can improve mental and physical well-being in the winter months:
Maximize Light: Light therapy is considered a key treatment for those suffering from SAD. A high-intensity light box is often recommended for increasing one's exposure to light and combatting SAD. From the design perspective there are several ways to bring light into an apartment. One is of course to amplify the existing natural light; use lighting filtering blinds and make sure to open them during the day to get maximum light exposure.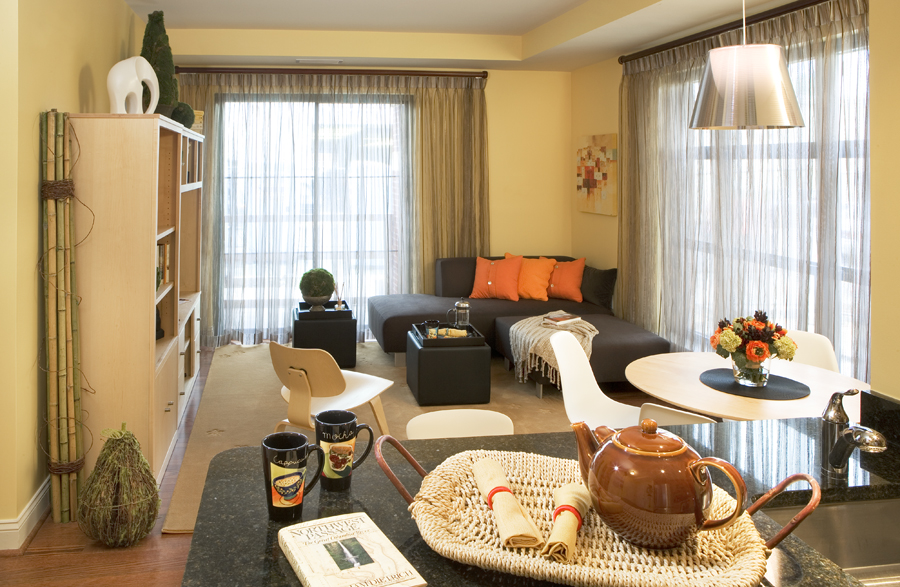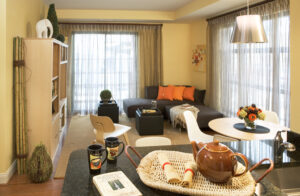 SR/A designed model unit at the Monarch featuring light filtering draperies
Another way SR/A incorporates light into apartment units is through the fixtures and millwork selections we make; high-gloss, reflective surfaces that will bounce light is another way to enhance the light available in an apartment.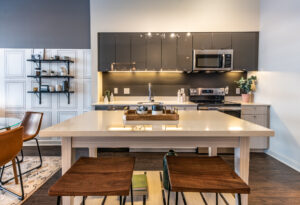 SR/A designed units at Ripley Solaire 8250 with light-reflecting kitchen cabinets
Create Opportunities for Socializing: Finding ways to stay connected with others during times of increased isolation, like winter, is important for one's mental health. While having friends over in one's apartment depending on its size and space may not always be achievable, there are other options for those living in apartments to create opportunities for socialization. A key area of SR/A's work includes the design of comfortable and residential-like amenity spaces such as game rooms and lounge areas in apartment buildings that offer spaces for engaging with friends and family.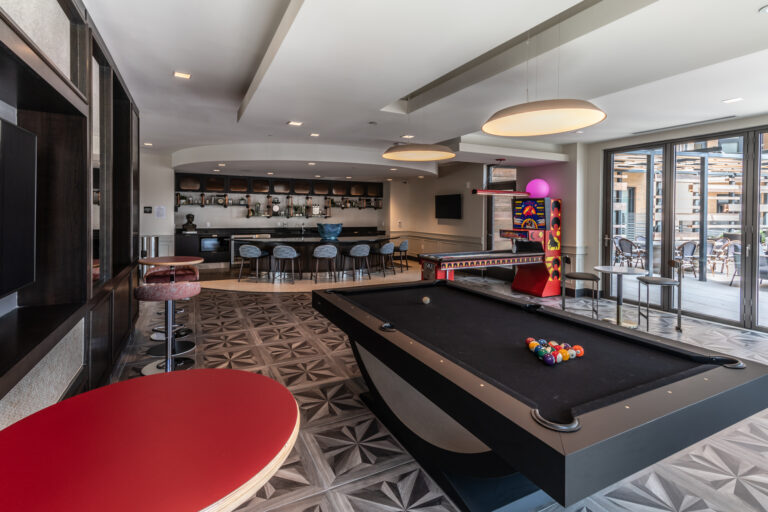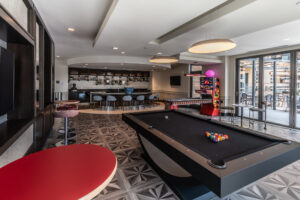 SR/A designed game room & lounge at Avec on H Street featuring various seating areas and entertainment options
Bring in Color: While having bright and natural light is very important to reduce stress and combat SAD, the use of color as a complimentary treatment to improve one's mental well-being is growing in acceptance. In the context of interior design, this can mean a lot of different things for interior spaces. Everything from adding a pop of color through pillows and other textiles in one's apartment to adding paint or wallcoverings that provide a dose of uplifting color to improve one's mood.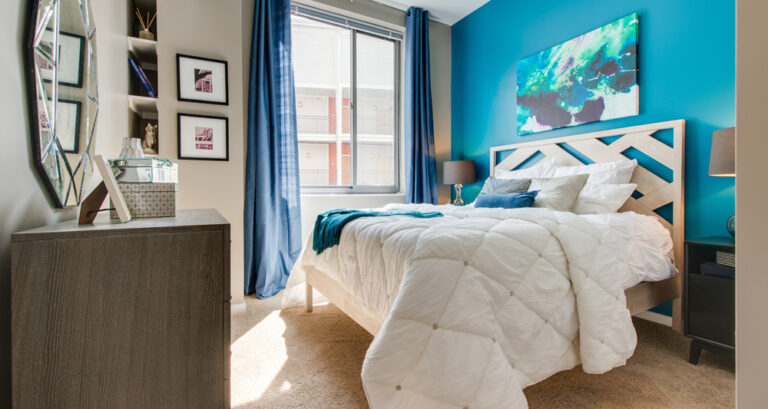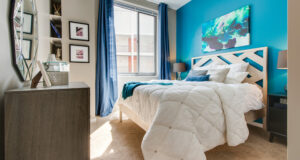 An apartment unit at the George featuring bright blue accent paint and accessories
While winter is still firmly upon us and my kids will probably continue to sniffle for the next couple of months, I for one, am taking comfort in the fact that are ways to combat the winter doldrums and improve my family's health and well-being this season. What are some ways you can bring some health and well-being to your home or apartment this winter?
Sarah Dick is a Junior Designer at SR/A.