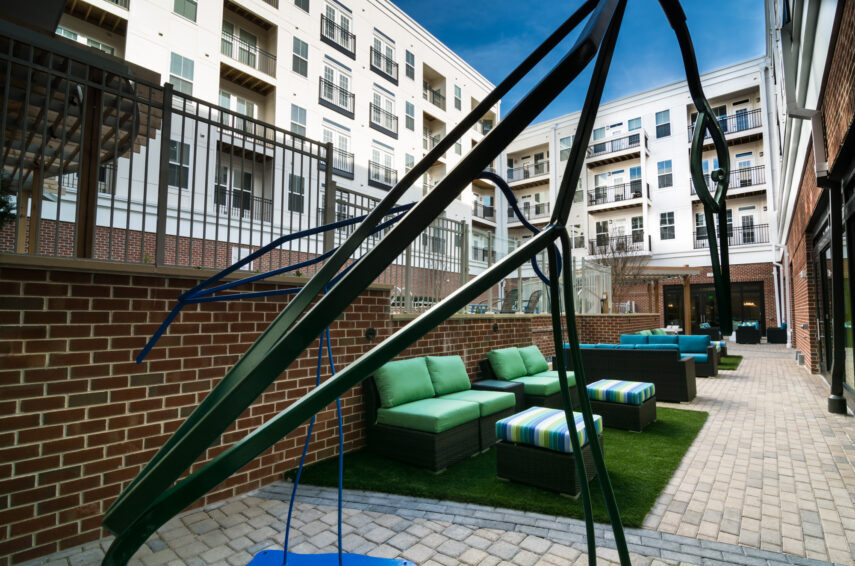 As interior designers, we have the ability – whether natural or learned – to create and transform spaces to illustrate a specific narrative. The design choices we make can manifest themselves in forms as large as the placement of walls and ceilings or as small as an accessory selection we procure. Despite the many possibilities in our minds and at our fingertips, sometimes we find ourselves wanting something more. Something that doesn't disappear as a built-in element; something that can't be bought from a catalog. Something that isn't just ordered but is created to order.
Enter Mark Schwenk: Sculptor and Metalworker (among other things!) Extraordinaire. When we need an artist's mind and a craftsman's hand to develop and fabricate pieces specifically for our jobs, we know we can rely on Mark. We sit down and work with him to discuss an artistic concept, starting with simple sketches. We outline some of the three-dimensional challenges of each design and explore creative solutions for those challenges. Finally, once we establish how to reach our goals, Mark gets to work cutting, grinding, hammering, welding, buffing, etching, painting – working his magic to create a final piece that embodies the essence of the initial vision without fail. For his creations that require delivery and professional installation, we know Mark will be there in person to make sure things go off without a hitch.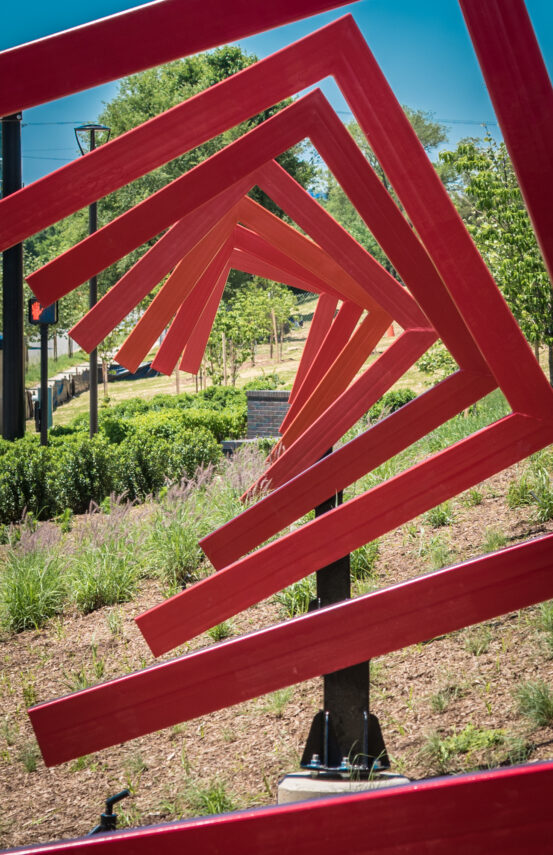 Mark and SR/A have collaborated for years to deliver sculptural pieces that suit our design jobs perfectly. Within the last decade, he's partnered with us on more projects than we can count – to name just a few. Mark has fabricated sculptural work to adorn a client's private house and property, three sets of interactive sculptures of varying styles located on the grounds of the Eisenhower Square development in Alexandria, Virginia, pieces for both outside and inside Dock79 Apartments in Washington, DC, The Courts at Spring Mill Station in Conshohocken, Pennsylvania and dozens of others throughout the larger DMV region. We're even currently in the design process for a fun installation at another existing DC apartment building (we can't tell you yet!).
Whether indoors or outdoors, in public or private, sculptural decorations undoubtedly add value to the spaces they inhabit. Beyond the obvious visual beautification, they often serve a function. Sculptures have a unique way of conveying a concept or a story as a three-dimensional experience. Some sculptures invite you to touch and feel—some prompt you to contemplate and discuss their meanings, while others tell you clearly. Sculptures serve as waypoints and gathering nodes. They can help spaces stand apart or link them together with a common theme. No matter what the objective – if there even is one – we trust Mark implicitly to develop the right piece for the right place, and that's why we continue to work with him. He's an invaluable resource and terrific human being, and we can't recommend him highly enough. If you're looking for a unique sculpture and want to support an artist local to the DC Metro area, give us a call, and we'll get you connected – you won't be disappointed!