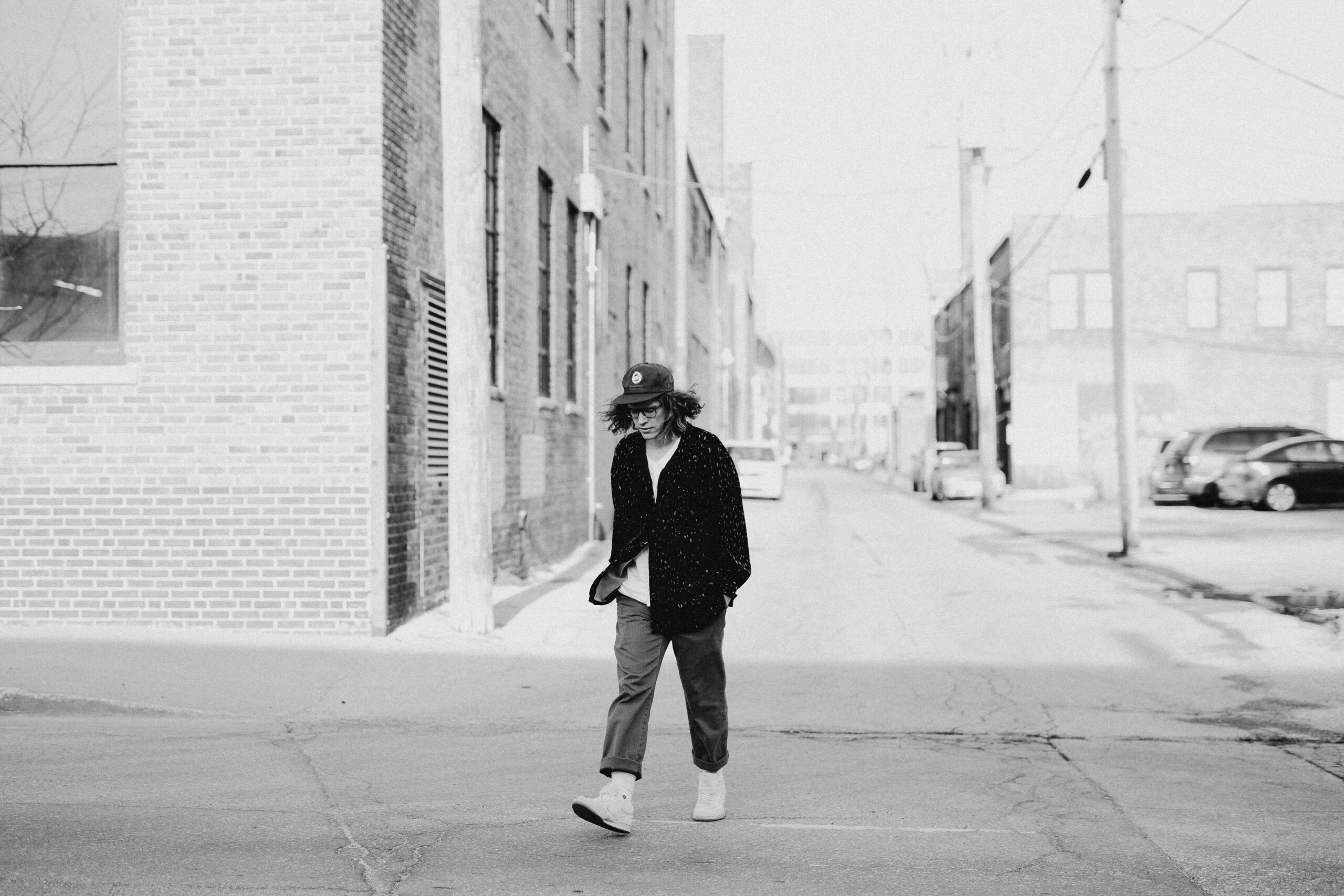 Just when you think you have explored all of DC, you will be surprised by the many hidden gems the area has, all of which can provide inspiration for architects and designers alike! Let's explore off the traditional path of the National Mall or Georgetown and dive into what the Southeast neighborhood of Anacostia has to offer in this post on 24 hours spent in Anacostia.
Anacostia: History & Architecture Anacostia is situated in Southeast Washington DC, along the Anacostia River. Incorporated in 1854, it's known to be the oldest neighborhood in Washington, DC.  When touring the area, you will be undoubtably be inspired by the distinctive architectural and historic features throughout the community. You'll see some small frame and brick structures from late 19th to the early 20th centuries that are still standing and look very similar to when they were originally constructed. Anacostia has a designated historic district, meaning any architectural changes must receive approval under the preservation law for the area. As a result, there is a rich abundance of architectural history preserved throughout the community. Anacostia includes the original Uniontown subdivision, Griswold's Addition, Cedar Hill (Frederick Douglass National Historic site), all of which highlight the community's rich history and heritage.
From the interior design perspective, honoring history and historical architecture can be a great starting point for design and weaves a compelling design story into spaces. At SR/A we like to give value and significance to the projects we work on. One way to do so is through the incorporation of elements from the past that may feel more traditional into our modern design and vice versa. A great example of that juxtaposition between the past and the present can be seen in the Modera Sedici project SR/A undertook a few years ago. My colleague, Amy Hinds has a great blog that dives into the history and design of the project through the lens of the art selections we made for the space.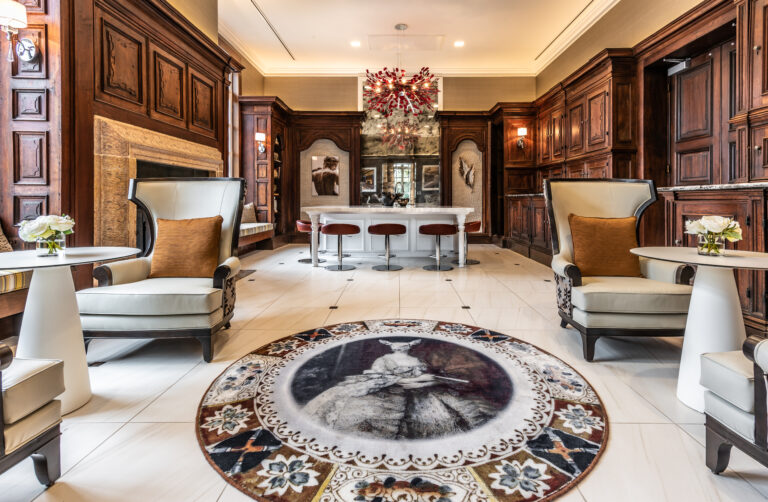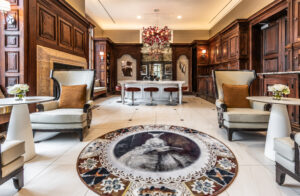 SR/A Designed Project: Modera Sedici
Anacostia: Nature & People In recent years, government agencies, developers and community groups have focused resources and attention to bring new life and energy to Anacostia. One example of this is the reconstruction of the 11th Street Bridge Park representing Washington, DC's first elevated park which will serve as a public space for visitors and residents of Anacostia alike. The design is by OMA+ OLIN and was created in collaboration with the nonprofit group, Building Bridges Across the River which ensured the project has an equitable development plan. Among other goals, this equitable development plan includes designs aimed to re-engage the local community with the Anacostia River as well as address health disparities among residents in the area. The design includes spaces for performances, public art, plazas, play areas, as well as a kayak and canoe launch area into the Anacostia River all of which serve to enhance the well-being of members of the local community. These community resources will prove vital as new developments such as the surrounding Bridge District and MLK Gateway Phase II are delivered in the coming years.
At SR/A, we are inspired by the culture and environment of the community in which we are working and try to find ways through our designs to enhance the well-being of the people and communities living in the apartment buildings we design. Dock 79, a recent SR/A project has a strong focus on connecting outdoor/indoor areas as a bridge to bring nature into the interior and improve the health and well-being of the residents in building. From the clubroom of Dock 79, residents have access to a patio space that overlooks the Anacostia waterway, bringing nature and opportunities for rest and reflection to the building's residents as well as an opportunity for connection with the natural space right outside the building.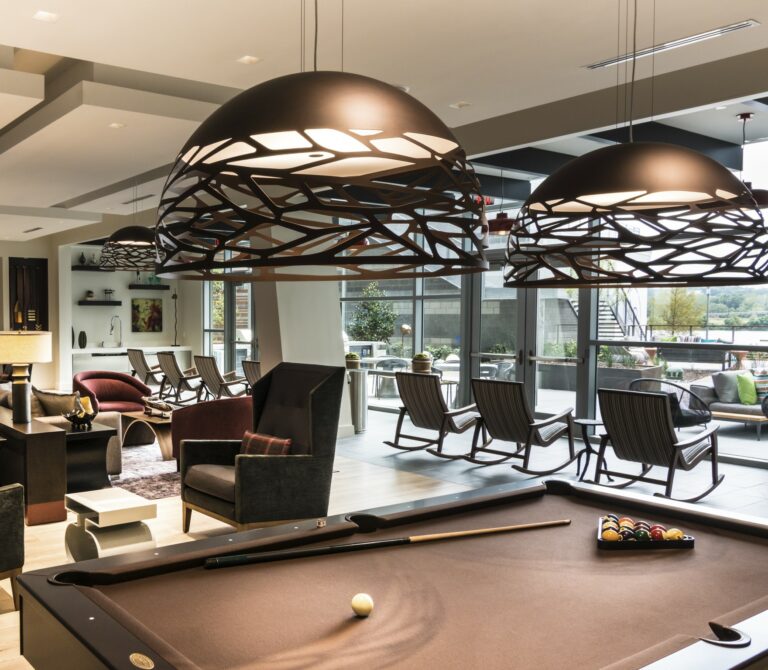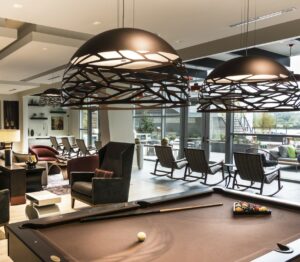 SR/A Designed Project: Dock 79
Anacostia: Art Anacostia is known for its murals and inventiveness. Around every turn, you'll find outstanding work highlighting diversity and people's voices. A must-see mural is the "We are Anacostia" a mural by Luis Peralta Del Valle, which measures 200 feet with two sides, and displays a visual chronology of Anacostia Historic District's past and present. If you want to pop into a gallery, the Honfleur Gallery is a great stop. The gallery showcases modern works by national and international artists and is another terrific destination for art enthusiasts. The gallery is supported by ARCH Development Corporation, a local nonprofit which uses the art, culture and creative economy to bring economic growth to residents in the community.
At SR/A arts and cultural always play a role in our designs and make for a richer, more nuanced project filled with personality and vitality. To give the spaces we design a sense of individuality and character, we frequently promote and support artists to create original murals, sculptures and art throughout the amenity spaces in our multifamily housing projects. At our Dock 79 project, located along the Anacostia River we incorporated murals into public spaces, invited artists to produce original works to bring the space together with the community and showcased a local sculpture/metal artist's work in the public spaces of the project.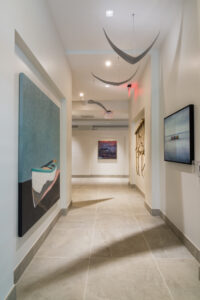 SR/A Designed Project: Dock 79
Anacostia is a neighborhood with a rich history, cultural vibrancy, and a community that values its heritage while embracing change and growth. It continues to be an area of interest for those seeking to experience the unique character of the nation's capital beyond its more widely known landmarks. So, while visiting the national mall or traversing the streets of Dupont Circle or Georgetown are worth a visit when exploring DC, we at SR/A believe that there are so many other wonderful places, like Anacostia that are off the beaten track and deserve to be explored. We hope you plan a visit to this vibrant and rich neighborhood in DC soon!
Amina Elshaer is a Junior Designer at SR/A.