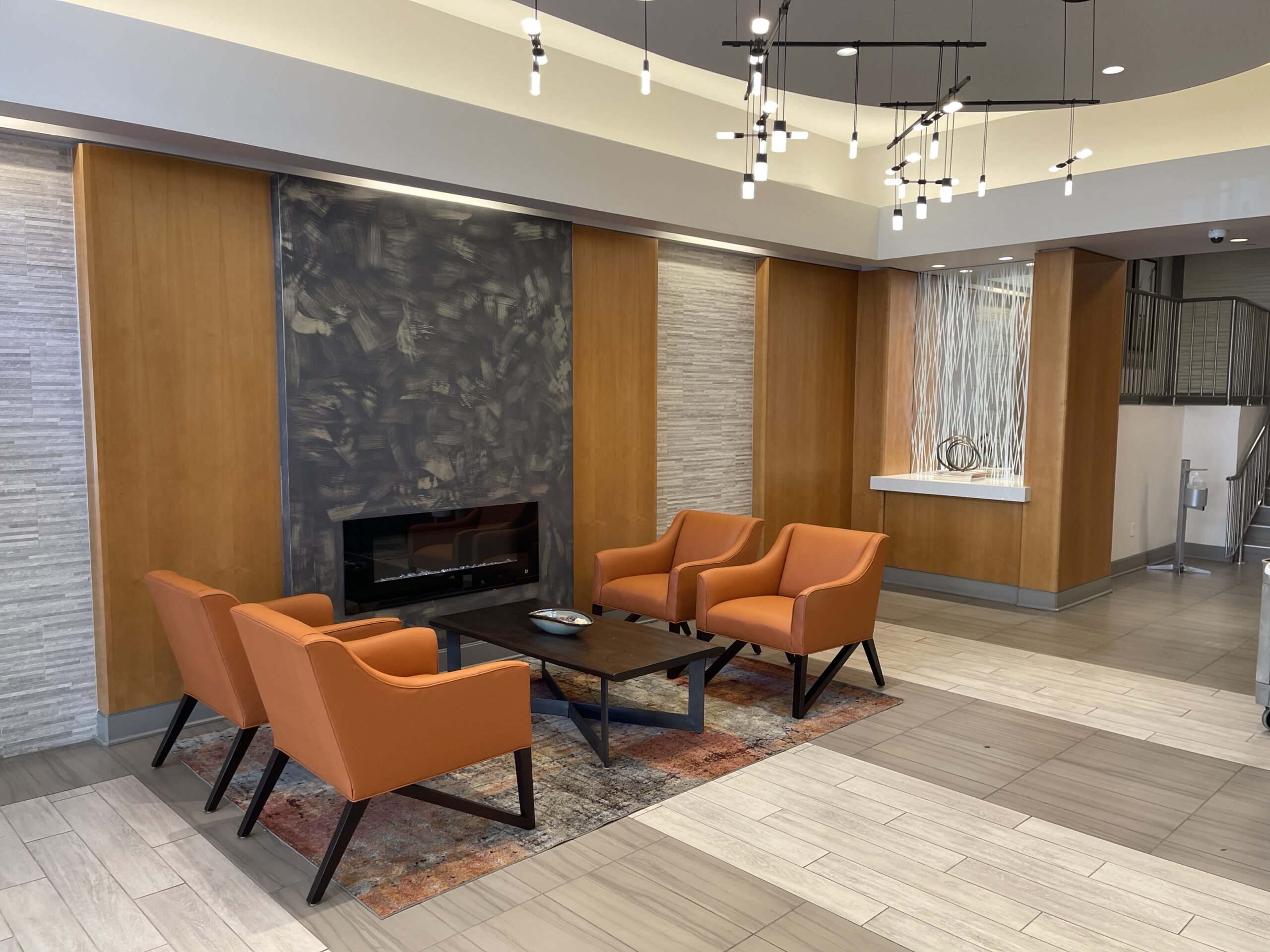 When SR/A was first introduced to Potomac Place Towers in 2020, the two-tower condominium had empty lobbies that were crying out to have design elements added that would make the areas feel more inviting and welcoming to residents. SR/A worked with the condo board to determine a solution to bring new furniture, fixtures, and equipment (FF&E) items to these lobby areas, building a design narrative that played homage to the building's architecture and mid-century ambiance.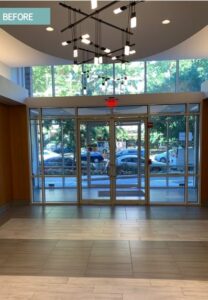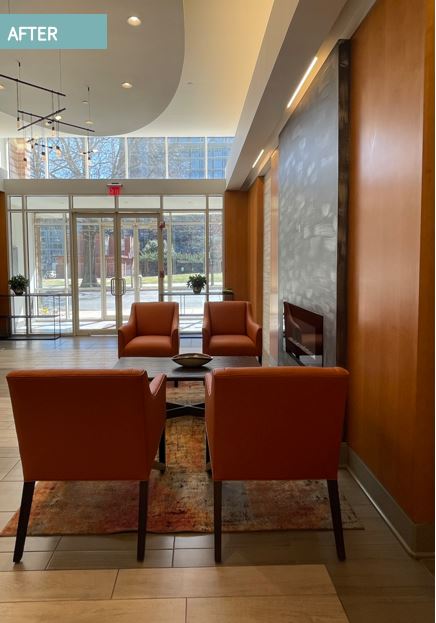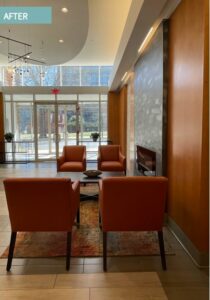 Before & After of the Lobby: Potomac Place 
The process of creating an updated vision to the property involved several steps. First, SR/A began by creating a space plan that would best utilize the building's multi-level lobby area. By analyzing the layout and function of the space, SR/A came up with a plan that created different seating areas for residents to use the spaces for a variety of functions such as taking a moment to sit and relax, wait for a ride or delivery, or socialize with other residents. Lounge seating around a coffee table creates a "living room" vibe allowing for moments of conversation and socialization, while benches across the room are perfect landing spots for resident's guests while they wait for others. Part of the design challenge for SR/A was to create new spaces while using many of the existing materials in the area. With that in mind, it was important that the FF&E selections matched with the building aesthetic. Using a warm and neutral color palette that is found throughout the existing materials, SR/A played off that palette by selecting rich wood tones and burnt oranges for the primary furniture finish selections.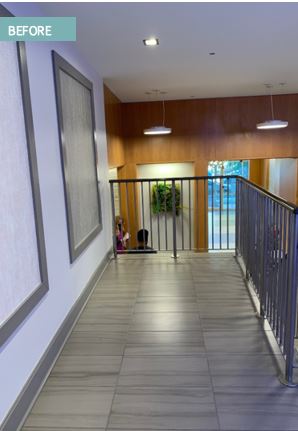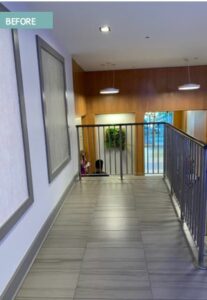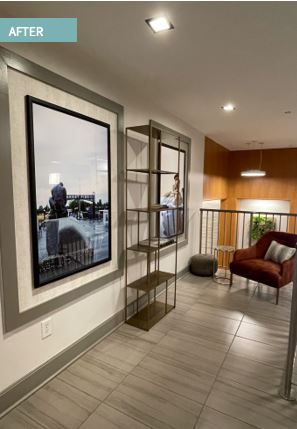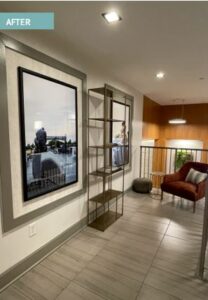 Before & After of the Library: Potomac Place 
Prior to SR/A's work on the building, beyond the first room of the lobby and up a few stairs, there was a small nook that was serving no purpose and ended up being un-utilized dead space. To give the space purpose and create an additional seating area in the project, SR/A designed an intimate 'library' nook to have an additional spot for residents to come and relax outside of their condo units. To foster community engagement and promote conversations among residents a community bookshelf; like the little lending library concept where people place "library" mailboxes in their yards for neighbors to borrow and leave books, was placed in each tower that would allow for residents to drop off or borrow a book to read. Comfortable lounge chairs and ottomans were added to the area for residents to have a change of scenery while enjoying whatever reading material strikes their fancy in the space.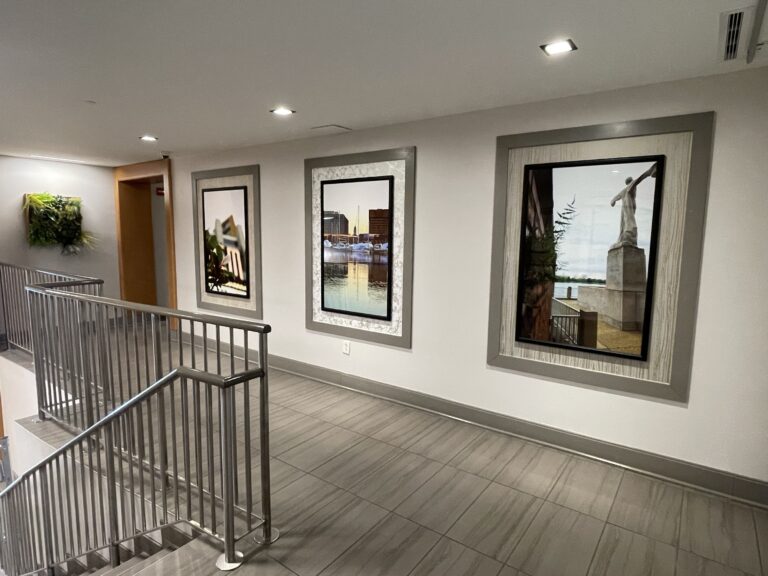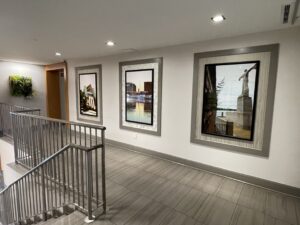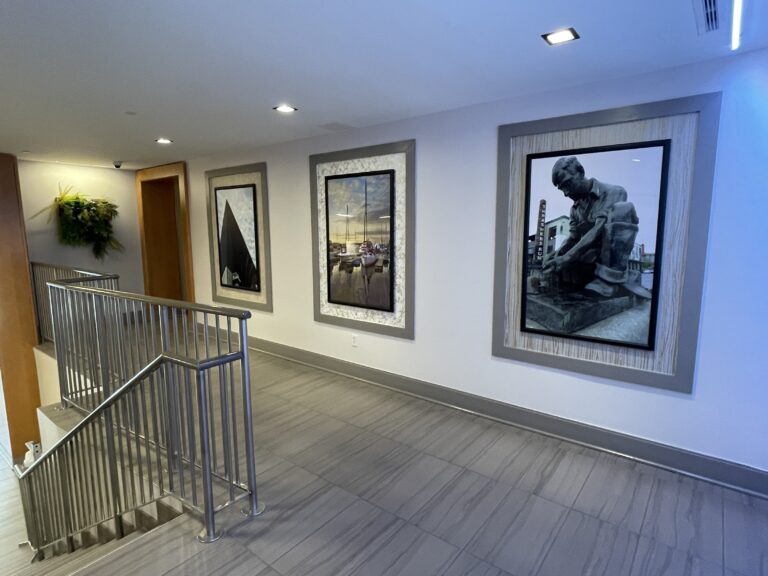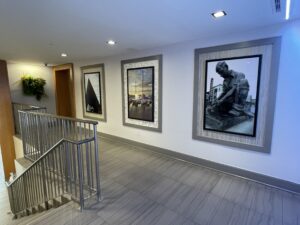 New Art Areas at Potomac Place
A final touch to the two tower lobbies was to add art to the spaces. The client expressed an interest in artwork to make the space feel more complete. Art is always a key element that SR/A brings to our designs. You can read more about our approach to incorporating art into a design concept in my colleague Amy's excellent blog.
The existing lobbies at Potomac Place had framed wallcoverings that acted as an art alternative. The client wanted more photography-based media as opposed to abstract works. As a nod to their neighborhood in Southeast DC, SR/A partnered with local photographers to curate a selection of photos that highlighted different landmarks and beautiful views that can be found close by. SR/A worked closely with the condo board and two local photographers to ensure the photography was personal to the building residents and met our high standards for artistic vision. No stock photos of the  , here!
After multiple photoshoots and dozens of images to choose from, SR/A selected some of our favorite shots and worked with the condo board to select 12 unique photos. The existing framed wallcoverings were also a great area to hang the new pieces. Choosing a larger scale print allows for the artwork to be a focal point, while still having a unique touch of the existing frame around them. While there are two sister buildings with identical layouts, SR/A wanted to make sure each building had their own unique touch, so the images in each tower are different than the other.
Renovation projects offer their own unique opportunities and challenges. The renovation of Potomac Place Towers was a great opportunity for SR/A to design spaces that achieved an inviting, invigorating and warm feel in the lobbies while respecting the building's architecture and character with the ultimate goal met of creating amenity spaces that bring satisfaction to current and new residents for years to come.
Connor Seiger is a Junior Designer at SR/A.