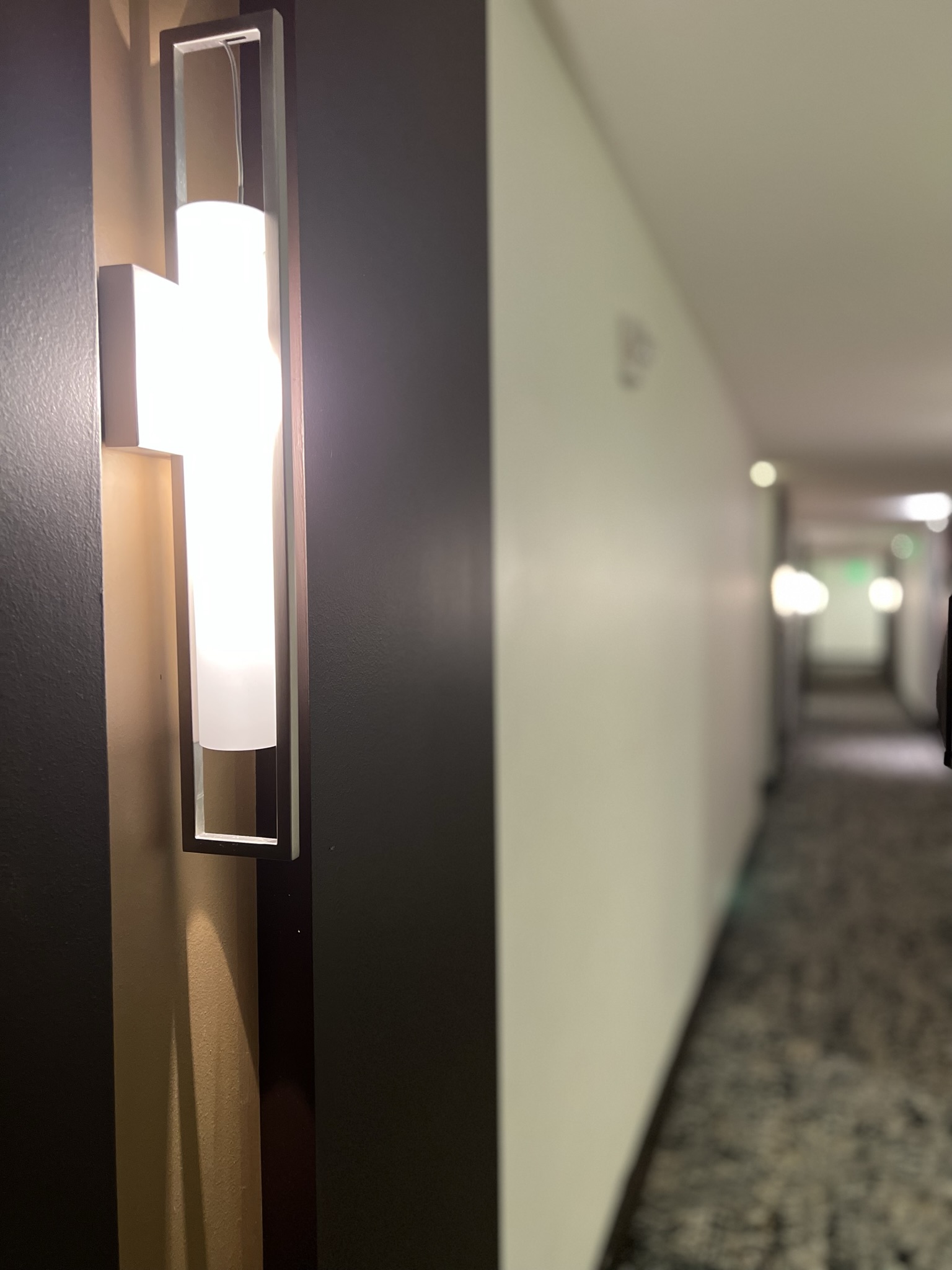 Corridors are the most common space in a multifamily property SR/A gets called in to renovate. And that is really no surprise – this is one area of the building that residents use without fail day in and day out. It's the gateway to their home after all. While that peeling wallcovering in the clubroom might go unnoticed for a while, the ding in the drywall next to the trash room, the stain on the carpet outside their door or the outdated unit numbers are something residents see and live with on a constant basis.
If a corridor renovation is in your property's near future, we have a few words of wisdom for you from our years of experience (believe me, we've seen A LOT of aging, lived-in corridors in our time).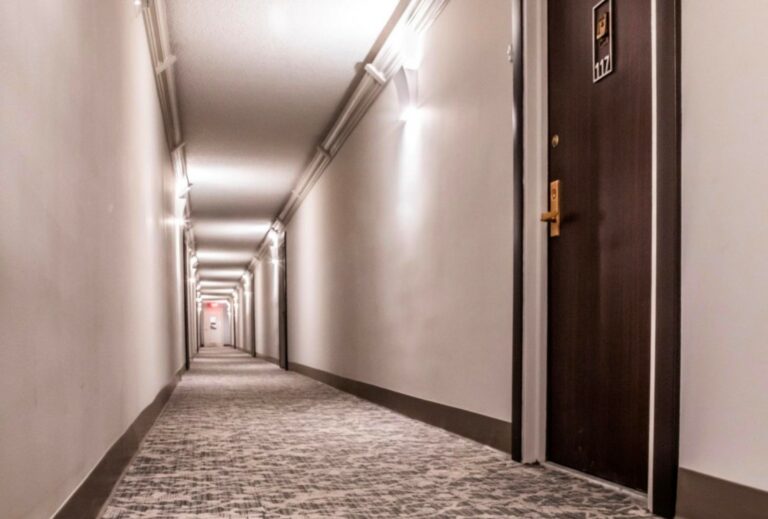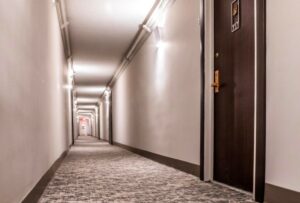 SR/A Designed Project – Idylwood Towers – Corridors
Highlighting Your Property's Design Story
Though corridors (materials/labor) are a significant investment, they are also often overlooked as an opportunity to showcase a property's personality. At SR/A we believe each property has its own unique design story. Though your goal might be (and should be) to have long-lasting materials that remain in budget, that doesn't mean you should skip on taking the time to do the project right. Even if you are working with a carpet supplier, engaging a designer will ensure the result is a feast for the eyes as well as the budget sheet. Design cohesion with other amenities in your property, as well as building branding and resident or owner feedback is key to a successful renovation.
Older properties should take advantage of those architectural quirks during renovations – random niche? Don't ignore it! Turn it into a showcase for artwork or perhaps a mural or other focal wallcovering. Odd built-in display shelf across from the elevators? Don't take it down! Work with it by displaying a rotating collection of local art or keep it simple by adding an accent paint and mirror. Whatever your property's quirk might be – design with it, not around it.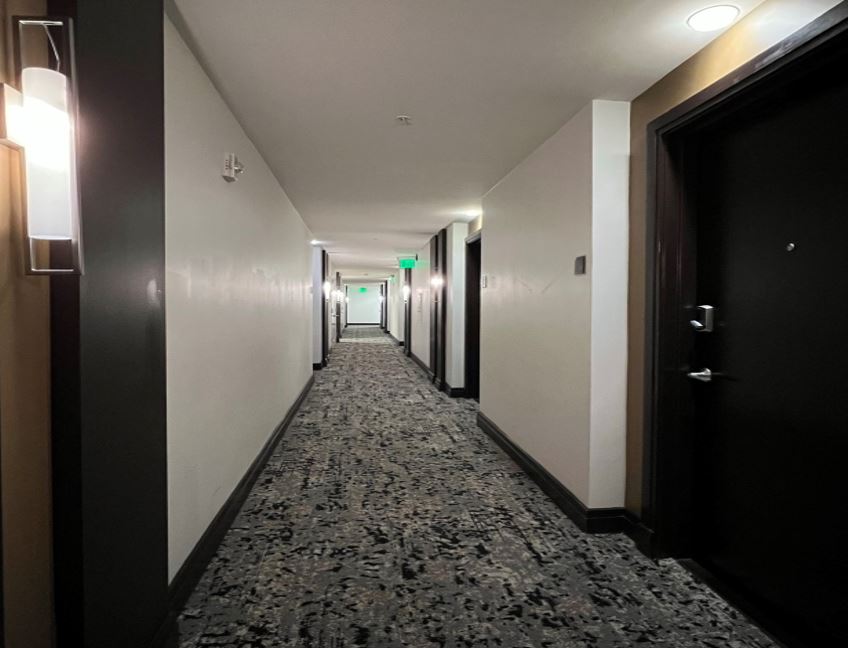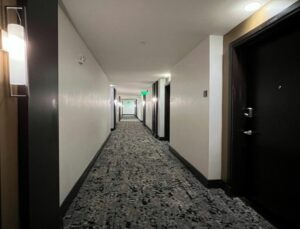 SR/A Designed Project – Elevation at Washington Gateway – Corridors
Considerations Beyond Durability
Though everyone's first question is "how well will this carpet hold up?" There are other considerations. What carpet underlayment is being used – will it have appropriate acoustical properties? Moisture barriers? Is the carpet fiber nylon, or wool or olefin? How light fast is the color? What types of cleaning products can be used on it? Is carpet even the right choice? Should we consider LVT or tile in some areas, such as outside the elevators? And that's just the flooring! Wall base material, paint vs. wallcovering (and even paint sheens), wall protection, etc. are all part of the game when working on corridor design. To ensure material selections that meets all the particular needs of your property many factors should be considered, and a good designer or material vendor will help you ask the right questions to find the best fit for your property.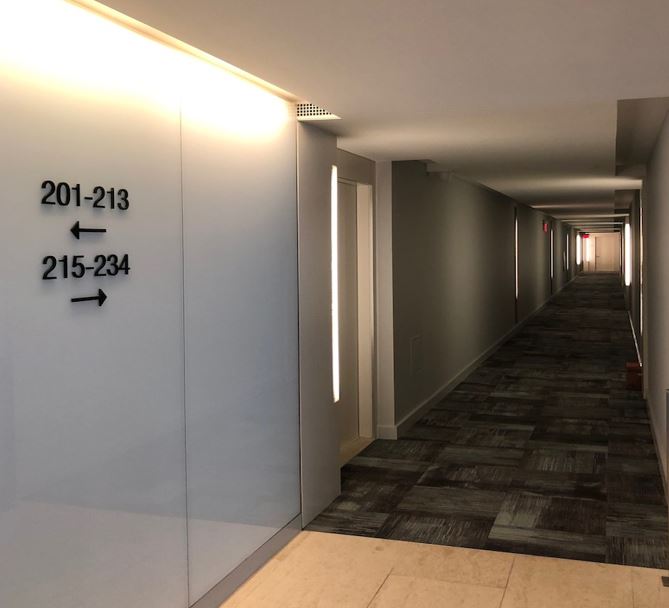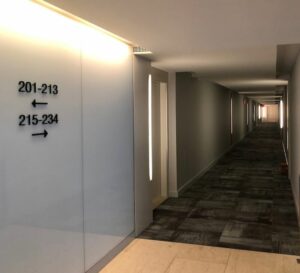 SR/A Designed Project – Apartments at City Center – Corridors
Don't Forget the "Icing"
Generally, people consider flooring and wall materials when thinking about a corridor renovation. However, there are other architectural elements in a corridor that should be considered – unit numbers, signage, door hardware and lighting (particularly lighting!). Even elevators can sometimes be overlooked because of the cost and additional permitting required, but believe me, residents ARE looking at that scratch on the laminate panel while the elevator ticks up to their floor. Making smart, design-driven decisions on these so-called secondary elements is often what turns a corridor from ho-hum into "wow!"
Ensuring a Strong Return on Investment
A corridor renovation, no matter the size of your property, is a sizeable investment. SR/A often encourages our renovation clients to do a Construction Cost Estimate at the beginning of a project. This service (read our last blog for more details!) helps properties gain an understanding of material and labor costs at the start of a project. We are then able to work with our clients to determine priorities and possible phasing of a project to ensure the property's needs and wants can be met within budget.
Whether you are planning a corridor renovation next quarter or next year, we're happy to talk with you about goals for your property and how best they can be achieved through a tailored design approach. And we promise, our team at SR/A won't be put off by that mystery stain on the carpet on the third level– we've seen (and helped with) it all.
Jennie Crouch is Vice President at SR/A.